What to do and see in Nice, France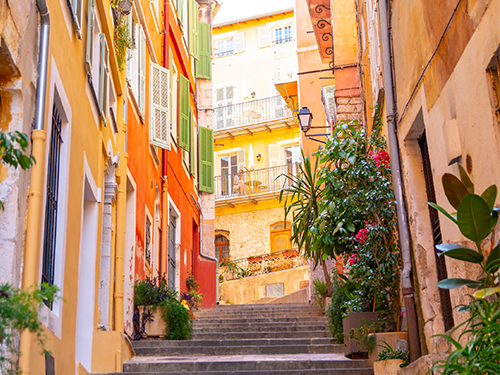 Things to do in Nice
In the heart of the French Riviera lies Nice, famous for its relaxed atmosphere, fine wine tours, and delicious seafood restaurants.
There really is plenty to see and do in Nice. Take a relaxed stroll along the beach promenade, explore the historic Old Town, or take a trip to the top of Castle Hill to see the castle ruins and beautiful artificial waterfall.
Art lovers will want to head to Musée Matisse or Villa Masséna Musée to explore 19th and 20th-century French art collections. Whereas insight into Nice's rich religious heritage can be found at the Notre-Dame de Nice, a Roman Catholic Basilica.
The adventurous type of traveler might opt for a trip outside the city to visit the lavender fields of Valensole or take a sailing trip out from the Port of Nice.
Getting to and around Nice
The best way to explore Nice is on foot. The beach and major tourist attractions are within walking distance of the center, so it's easy to get around.
If you do need to use public transport, trams and buses stop near most attractions, and are well-connected to the airport and Nice-Ville train station.
You can also get taxis and other private hire services like Uber, though this option is naturally the most expensive.
Hiring a car in Nice is not recommended due to the tricky parking and high volume of traffic.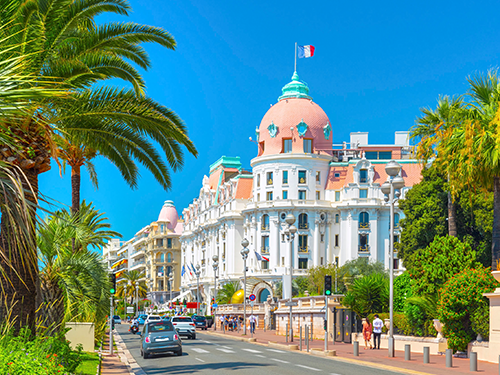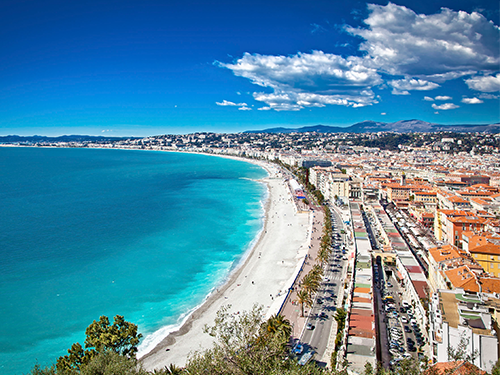 Travel to Nice in the peak season
As Nice is very much a beach town, it'll come as no surprise that the peak season falls in the summer months of May to August.
The hot, humid weather makes it perfect for taking a dip in the Mediterranean, but it's busy on the beaches as tourist crowds flock to the waterfront.
If you still want to enjoy good weather but less chaos, then we'd recommend visiting in the shoulder seasons of spring and fall – from March to May or September and October.
At that time, conditions are good for sightseeing and soaking up some sun without the extreme heat and masses of people.
Off-season travel in Nice
The off-season in Nice is between November and early March.
Temperatures drop to around 50 degrees Fahrenheit, so any hope of a swim is optimistic, but you can still enjoy the city's sights comfortably.
You'll be able to secure the cheapest flights to Nice during this time, with the exception of late February – March when the city's renowned Carnival event takes place.
No matter when you plan to travel, we simply recommend booking your flight tickets to Nice in advance to ensure you have get the best deal on flights.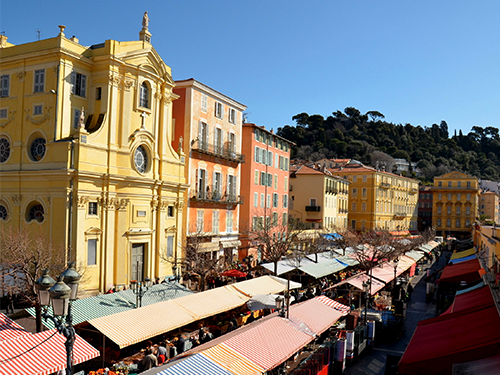 Shopping in Nice
If you're in need of retail therapy, Nice's 6,000 stores make this city a paradise for those who love to shop.
Famous, especially as a destination for luxury shoppers, the area known locally as Carré d'Or (or the Golden Square) is home to a variety of designer brand stores and high-end retailers.
The streets are lined with lush green trees and quaint French cafes, giving the shopping experience a distinctly elegant feel. Head to Vieux Nice (the Old Town) if you prefer trendy boutiques and craft shops.
You can also explore Nice's vibrant market life at one of the many markets dotted across the city. From flower and food stalls to flea markets, antique markets, and markets for locally produced goods – you won't be short of opportunities to enjoy this part of French cultural life.
Eating out in Nice, French Riviera
Inspired by its neighbors in the Mediterranean and Italian Alps, Nice has developed a unique cuisine defined by locally grown produce, including olives, almonds, tomatoes, and sardines.
For the ultimate culinary trip to Nice, sample authentic socca (a flatbread-like pancake made from chickpea flour and olive oil) after a delicious meal of salade nicoise or ratatouille.
Nice is ultimately a city bursting at the seams with restaurants, bars, and cafes to explore. You'll find a range of different eateries situated around the historic square of Place Masséna, and there are opportunities to sample the local grape on a wine tour.
Foodies, especially, will adore eating out in Nice's seafood restaurants and tasting some of the finest food in southern France.