Book your flight to Stockholm with Icelandair from
Fly in the next three months: Flights to Stockholm
Seattle (SEA)to
Stockholm (ARN)
Feb 04 2024 - Feb 09 2024
Boston (BOS)to
Stockholm (ARN)
Jan 16 2024 - Jan 30 2024
Boston (BOS)to
Stockholm (ARN)
Jan 10 2024 - Jan 19 2024
Boston (BOS)to
Stockholm (ARN)
Jan 01 2024 - Jan 16 2024
Seattle (SEA)to
Stockholm (ARN)
Jan 28 2024 - Feb 08 2024
Seattle (SEA)to
Stockholm (ARN)
Feb 06 2024 - Feb 17 2024
Chicago (ORD)to
Stockholm (ARN)
Feb 15 2024 - Feb 18 2024
Chicago (ORD)to
Stockholm (ARN)
Mar 03 2024 - Mar 06 2024
Chicago (ORD)to
Stockholm (ARN)
Jan 11 2024 - Jan 20 2024
Minneapolis (MSP)to
Stockholm (ARN)
Dec 14 2023 - Dec 21 2023
Raleigh-Durham (RDU)to
Stockholm (ARN)
Jan 08 2024 - Jan 18 2024
Washington, D.C. (IAD)to
Stockholm (ARN)
Jan 08 2024 - Jan 18 2024
*Fares displayed have been collected within the last 72hrs and may no longer be available at the time of booking
Plan ahead for your trip to Stockholm with Icelandair
From

Boston (BOS)

To

Stockholm (ARN)
Round trip

/

Economy
Sep 04 2024 - Sep 18 2024

From

USD 516*

From

Boston (BOS)

To

Stockholm (ARN)
Round trip

/

Economy
Apr 05 2024 - Apr 14 2024

From

USD 771*

From

Boston (BOS)

To

Stockholm (ARN)
Round trip

/

Economy
May 19 2024 - May 30 2024

From

USD 866*

From

Portland (PDX)

To

Stockholm (ARN)
Round trip

/

Economy
Mar 24 2024 - Mar 31 2024

From

USD 2,508*

From

Seattle (SEA)

To

Stockholm (ARN)
Round trip

/

Economy
Mar 05 2024 - Mar 14 2024

From

USD 722*

From

Seattle (SEA)

To

Stockholm (ARN)
Round trip

/

Economy
Mar 26 2024 - Apr 09 2024

From

USD 900*

From

Seattle (SEA)

To

Stockholm (ARN)
Round trip

/

Economy
Mar 29 2024 - Apr 05 2024

From

USD 1,071*

From

Chicago (ORD)

To

Stockholm (ARN)
Round trip

/

Economy
Apr 19 2024 - Apr 27 2024

From

USD 515*

From

Minneapolis (MSP)

To

Stockholm (ARN)
Round trip

/

Economy
Aug 18 2024 - Aug 28 2024

From

USD 667*
*Fares displayed have been collected within the last 72hrs and may no longer be available at the time of booking
What to see and do in Stockholm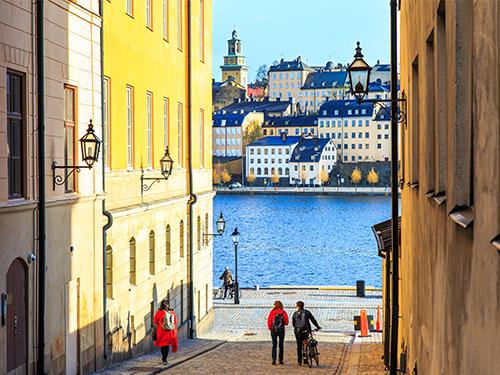 What to expect in Stockholm
Sweden's beautiful capital city gives the gift of endless eye candy, boasting cobbled streets, green parks, magnificent museums, and offshore islands. City slickers will find inspiration in design-filled hotels and boutiques and in creative menus full of local delicacies.
When it comes to exploring the city, let us be your guide to Stockholm.
Stockholm's good looks are spread across 14 islands, which are linked by dozens of photogenic bridges. Exploring the diverse, distinct neighborhoods is a delight. The prime magnet for travelers to the city is Gamla Stan (Old Town), Stockholm's medieval heart.
Sure, it's a little touristy, but this cobblestoned collection of narrow alleys, rainbow-hued buildings, and postcard-worthy squares is something you won't want to miss out on.
Things to do in Stockholm
A quintessential Stockholm experience is to rent a bike and go exploring Kungliga Djurgården island. The huge park on the island is a city oasis brimming with first-class attractions and garden cafes.
Located within the gardens, Skansen is the world's oldest open-air museum and is certainly worth making a stop at. Meanwhile, Junibacken fun park honors Pippi Longstocking amongst other children's literature favorites.
Djurgården island is also home to a range of other collections that span all interests, from modern art to treasures from times gone by (including memorabilia from both the Vikings and 1970s supergroup, Abba).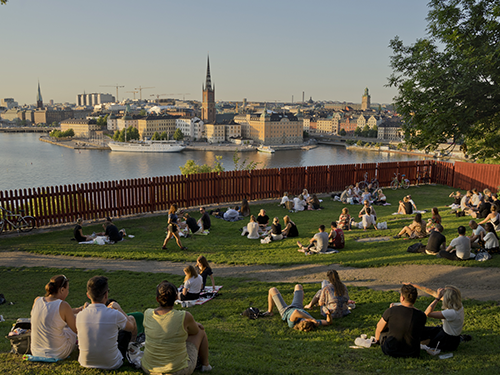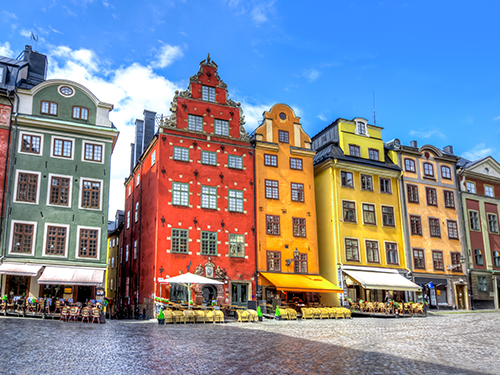 Where to shop in Stockholm
Sweden is celebrated for innovative design (beyond the Ikea flatpacks) and Stockholm's impeccable eye for beauty is found in everything from the smallest souvenirs to the largest architectural creation.
Neighborhoods primed for browsing include Södermalm's SoFo district (south of Folkungagatan) where both vintage and street fashion is sold alongside cool designer wares. Shoppers are well looked after with trendy cafes and bars providing the perfect pit stops between shops.
The Designtorget chain of stores showcases the work of established and emerging designers. Meanwhile, Gamla Stan has local handicrafts and design stores alongside the traditional souvenir sellers and Östermalm should be on your radar if you're seeking high-end fashion and design boutiques.
What to eat in Stockholm
Though famous internationally, we have to say that there's a lot more to try than just Swedish meatballs! Discover old-school bakeries, rustic cafes, and Michelin-starred beauties. Explore excellent food halls and markets (the best of which is in the chic Östermalm district).
Seafood from the Swedish coast is a star ingredient all over town. Try crayfish, herring and salmon for great local flavor.
Make sure you engage in fika at least once during your stay - this is the revered local custom of a coffee break, usually enjoyed with a baked sweet treat. The Swedes also invented the traditional smörgåsbord concept, and you can see it in its finest form at the luxury Grand Hôtel in Stockholm.
If traveling on a budget, cheap eats can be found at super-cool food trucks where street vendors sell delicious korv (hot dogs) and kebabs.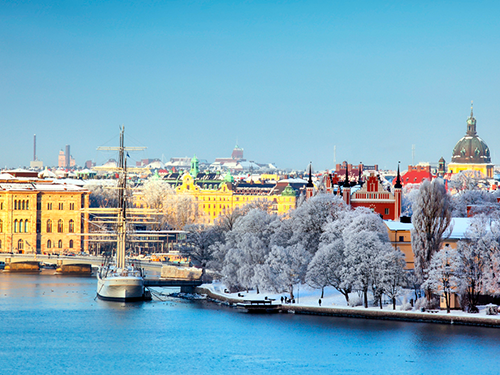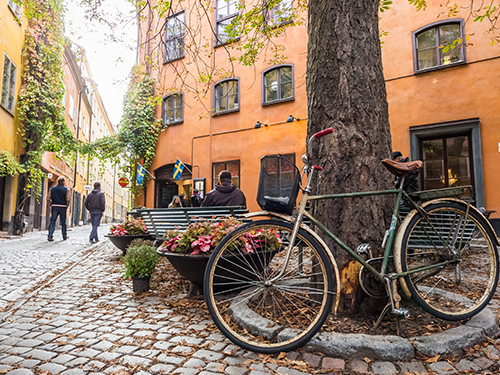 Traveling around Stockholm
The most convenient way to travel around Stockholm is by using the extensive public transport network. From metro and tram to bus and ferry, this is a city which is extremely well covered by public transport.
Hiring a bike and cycling around the city is also a popular option, among travelers and locals alike. This allows you to take in more of the sights and stay active while you travel.
While walking around Stockholm is possible, the city is quite spread out (it is the largest urban area in Scandinavia, after all) and so it's recommended to hop on public transport when going between places.
Getting from the airport to downtown
Icelandair flights land at Stockholm Arlanda International Airport (ARN), a short 20-minute train ride from the city center. Hop on board the Arlanda Express at the airport (it departs every 10-15 minutes) and you'll be downtown in no time.
Tickets for the train cost a little more if you buy them on board, so we recommend travelers grab their tickets online or at a ticket booth before starting their journey.
Some travelers also choose to grab a taxi - for convenience and comfort reasons mostly. There are usually plenty of cabs available outside the airport, however, you could choose to pre-book an airport transfer for that added peace of mind.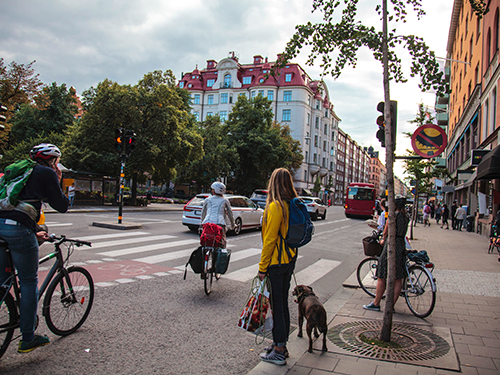 FAQs about travel to Stockholm
Helpful information for travelers to Stockholm
What is the best time of year to fly to Stockholm?
Stockholm's high season runs from May to August. The summer days seem like they never end, and the sun sets as late as 10pm.
July is the warmest month in the city, and a lot of events, festivals and activities take place. If you are interested in spending your time outdoors, this is a fun time for tourists to visit the city.
In the winter months, temperatures plummet and the sun can set as early as 3:00pm, so be prepared for outdoor winter adventure followed by cozy vibes at night.
Icelandair offers flights to Scandinavia multiple times a week, so you can book flights to Sweden and enjoy this cool Nordic city whenever is best for you.
What US cities fly to Stockholm?
Many major cities in the United States fly into Sweden thanks to Icelandair's broad connectivity to the city of Stockholm through Iceland. US travelers can fly from airports in New York, Raleigh Durham and Detroit, among others.
How long are flights to Stockholm?
A flight from Orlando to Stockholm can take around 12 hours, but how long your flight takes really depends on what US airport you are flying to Sweden from, and how long your layover is.
How to find cheap flights to Stockholm?
The cheapest time to fly to Stockholm is usually the winter months, this is when there is a slightly lower demand.
This isn't to say that flight prices are a lot more expensive at other times of year. Rather, our best advice is simply to book your flights as far in advance as possible.
Make the most of your trip