09/30/2022 | 12:00 PM
Plan a trip to Iceland for the northern lights
The darker the nights, the brighter the lights! With darkness being crucial for northern lights hunting, the Icelandic winter brings even more opportunities to see the impressive aurora borealis.
Iceland is one of the most magical destinations to see the lights, and it should certainly be on your travel bucket list if it isn't already.
The aurora borealis are a fascinating natural phenomenon, from the science behind what triggers the lights to the ancient folktales surrounding them.
Discover everything you need to know about searching for the lights, what to pack, and tips on how to capture the magic with your camera.
What is the best time of year to see the northern lights in Iceland?
In Iceland, the official northern lights season runs from October until March, but the lights have been spotted as early as August and as late as April.
Indeed, the aurora borealis are often strongest around the time of the equinoxes, when the sun is directly above the Earth's equator and day and night are about the same length. This typically occurs around March 20 and September 23.
From May to July, Iceland enjoys round-the-clock daylight thanks to the midnight sun season, meaning it never gets dark enough to see the lights during these months. Instead, we suggest planning a trip in the fall or winter to enjoy this beautiful natural phenomenon.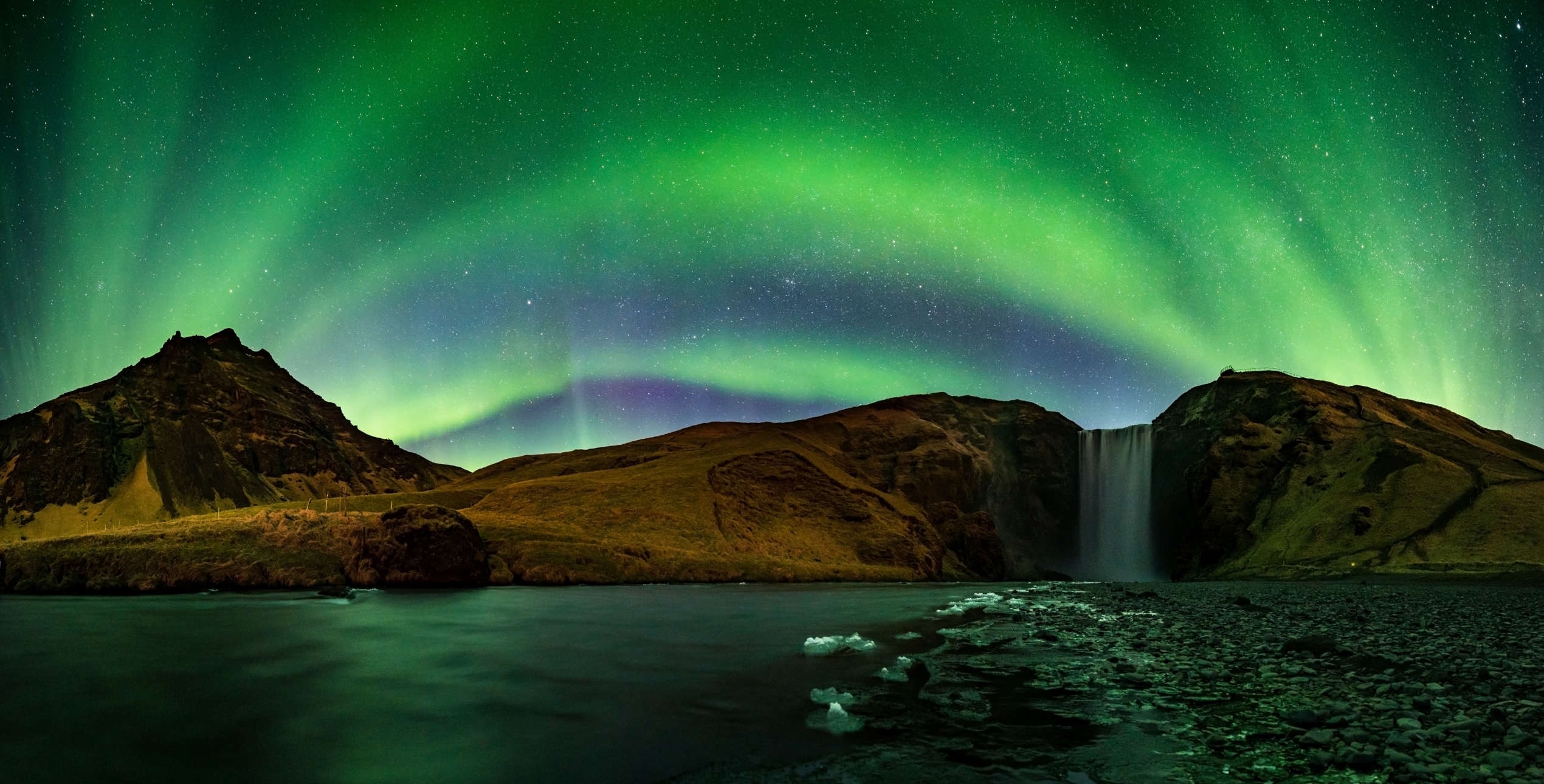 What weather and conditions do you need to see the northern lights in Iceland?
The northern lights are a fickle beast – often taking even the most avid hunters by surprise with their appearance and/or intensity. However, there are certain conditions that you need in order to be able to see them at all.
For starters, dark, preferably clear skies and a good KP index score are crucial. A full moon can significantly brighten the sky, making it more difficult to enjoy the show, so it's ideal if the moon is smaller on the night you want to go looking.
Heading away from light pollution will maximize your chances of a glimpse, although the very brightest aurora borealis can be seen from cities and even through thin clouds.
The time of night can also have an impact on how easy it is to see the aurora in Iceland. Generally, 9pm until 2am is prime viewing time, and the lights tend to get more visible as the night goes on, so the show can be a long but extremely rewarding one.
If you need your beauty sleep, you'll find that many hotels offer an aurora alarm service, calling your room to wake you if there are hints of color in the sky – so that might help you decide where to stay in Iceland to see the northern lights.
Arguably the most important factor for seeing the aurora borealis is geomagnetic activity, measured by the KP index. This index indicates the most likely time that you can see the northern lights in Iceland and how strong they will appear to the eye.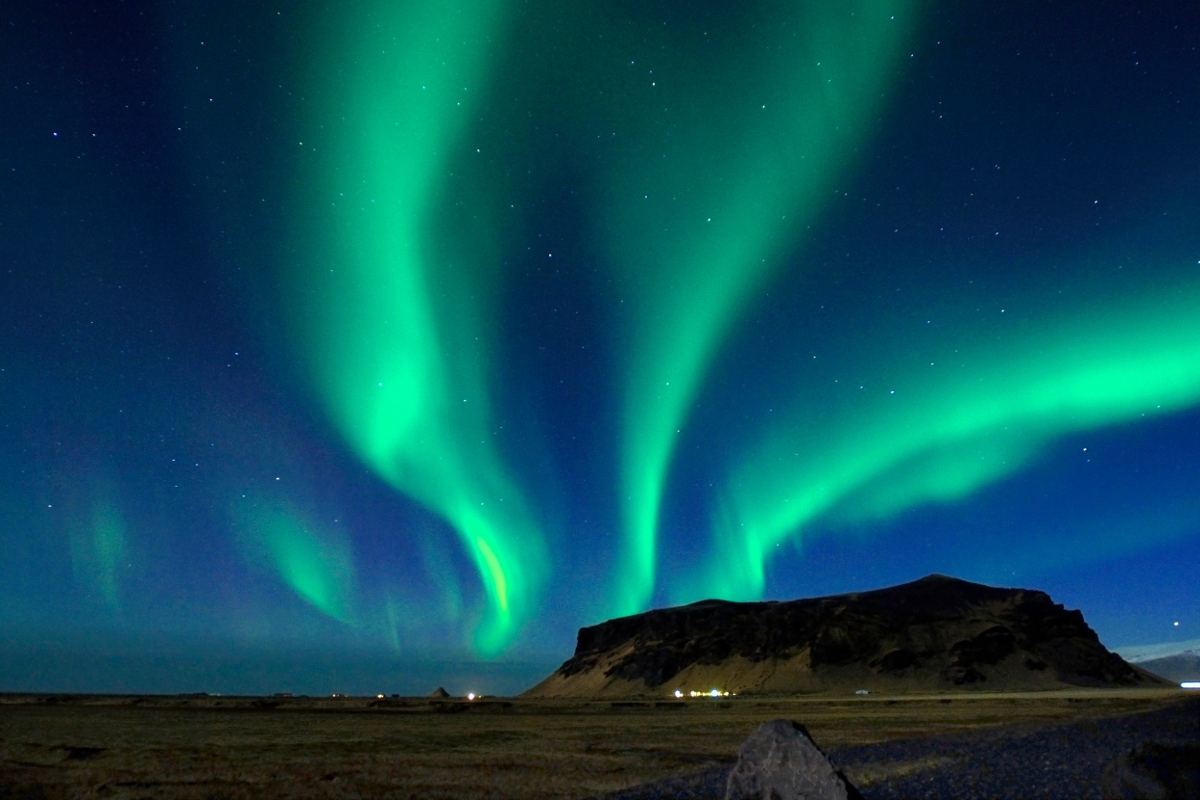 The higher the KP index, the better your chances of seeing lights, and the more likely you are to see the pink and purple colors, alongside the green, light up the sky. There is a complex science underpinning the northern lights, and there are many factors at play when the lights make an appearance.
Geomagnetic activity is difficult to predict far in advance, but there are several apps and websites, including the Icelandic Meteorological Office, that report on the KP index forecast a few days ahead.
The aurora often first appears as an arc, stretching from east to west across the sky. Later in the night it may develop into rippling streamers, pulsating globes, a corona of rays that appear from a point high in the sky, or as scattered patches of light.
The fact that the appearance of the aurora borealis can change so much within the course of a single night makes it all the more mesmerizing, and you'll likely stay out well into the night to enjoy this majestic sight.
How to hunt for the northern lights in Iceland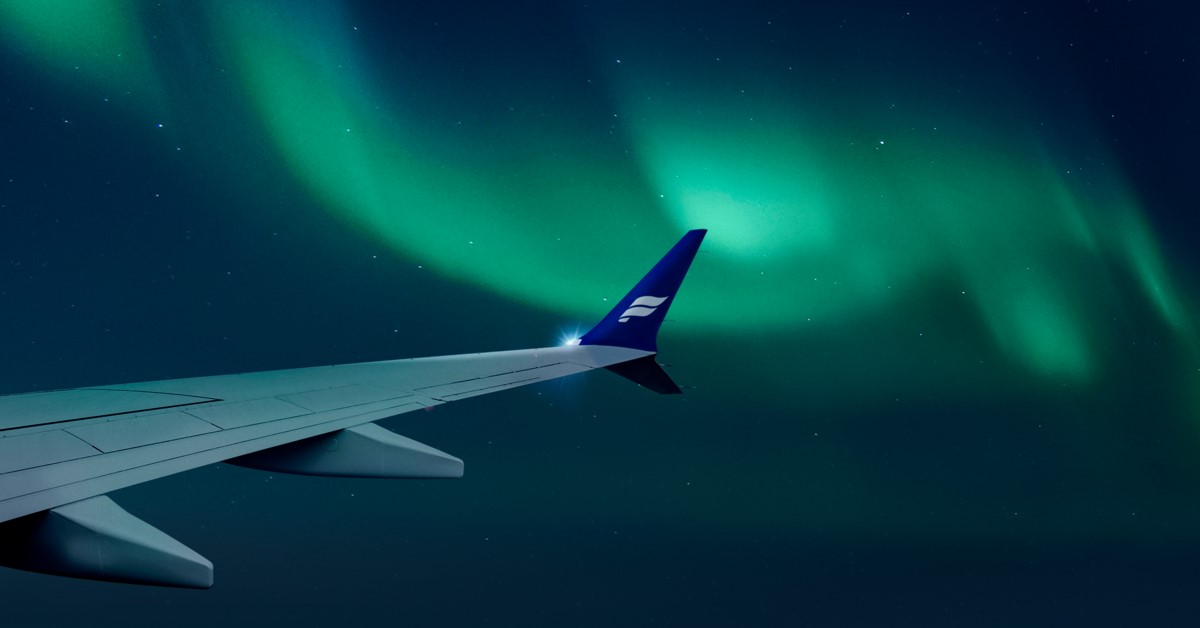 So now that you know what you're looking for, and what to expect, you might decide to rent a car and go aurora hunting on your own. It's a great excuse to venture a little off the beaten track and find a good spot to enjoy the show.
However, those with limited time in Iceland often opt to join a guided northern lights tour. That way, they know that their experienced guide will take care of them in terms of where to go, what to look for, and even throw in a few fun facts about the history, folklore and science of the aurora borealis.
Some excursions are geared to photographing the northern lights (with expert guides), while other tours might combine aurora spotting with another activity, such as soaking in a geothermal pool.
For those who want the stress and fuss taken out of their trip to Iceland, a northern lights vacation package that includes accommodation, flights, and tours might be the perfect option. Travelers can combine aurora borealis viewing with a Golden Circle excursion, whale watching tour, boat cruise, or a soak in a geothermal pool for the ultimate Icelandic experience.
We offer northern lights packages from all the international cities we fly from, so explore our website (using the flags at the top of the page) to find a vacation package that departs from an airport close to you.
Fly into Iceland after dark and you might even get to enjoy some of the best views of the aurora borealis from high altitude. Better yet if you're flying onboard our Hekla Aurora aircraft, whose design is based on the beautiful colors of the northern lights.
What are the best places in Iceland to see the northern lights?
Getting out of the city and heading away from light pollution will maximize your chances of a glimpse, but rest assured that the brightest auroras can be seen from cities and even through thin clouds.
In Reykjavík, favorite spots to view the northern lights include Grótta lighthouse, at the westernmost point of the city, and Öskjuhlíð hill. A bit further outside town, the Heiðmörk forest area is easily reached by car and escapes the city lights, and the lake Kleifarvatn area offers a scenic drive to dark skies.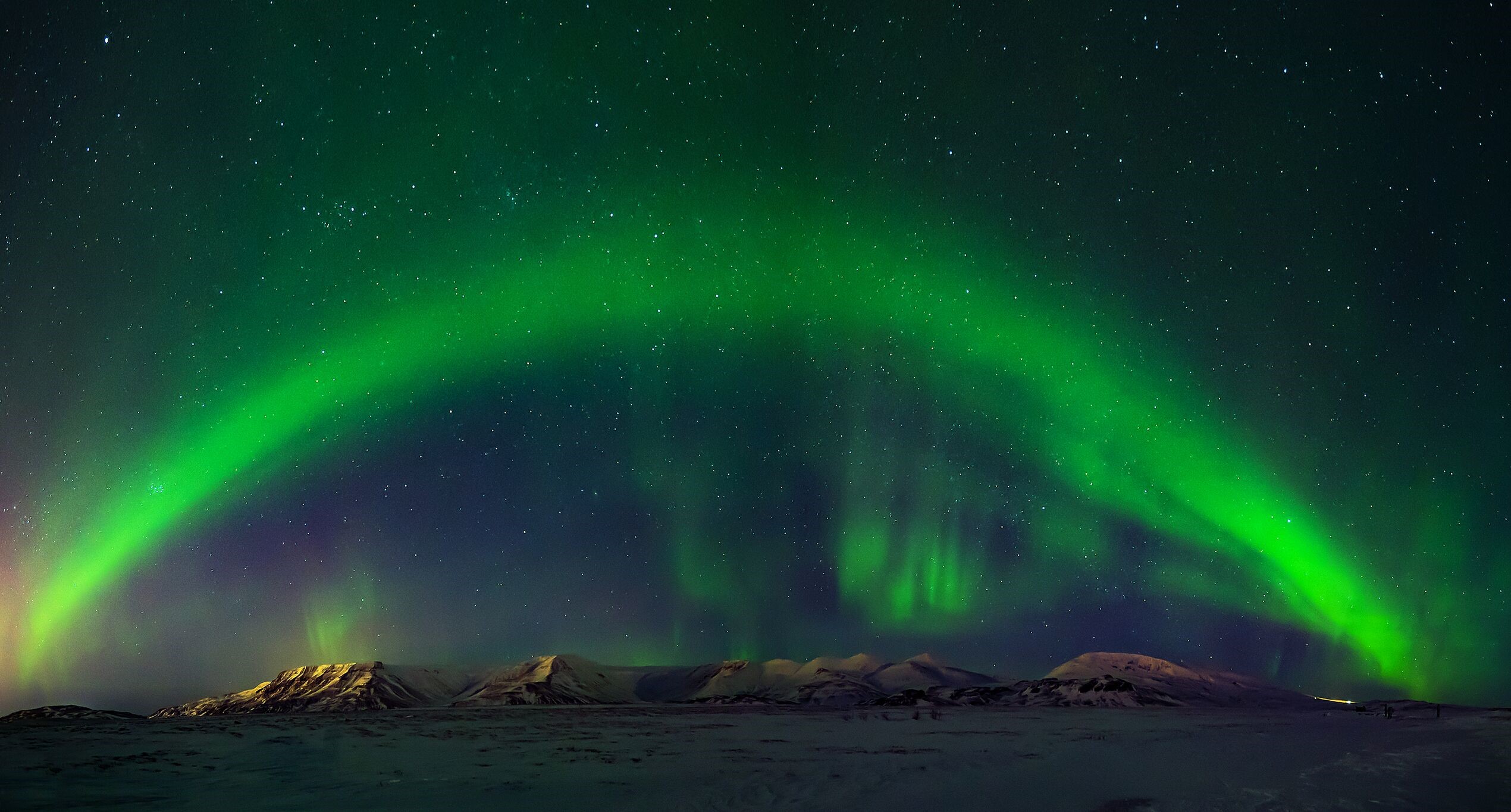 On your way to Kleifarvatn, you can stop at the observatory at Aurora Basecamp to learn more about the phenomenon.
In Reykjavík, Perlan sits atop Öskjuhlíð hill and houses a planetarium that during the day shows an immersive northern lights show titled Áróra. The planetarium makes a good summertime option if you want to see what the winter skies are like while the midnight sun shines brightly outside.
Outside Reykjavík, the sky is (literally) the limit for aurora hunting. There are not many cities in the sparsely populated countryside, so dark skies are easy to find.
Favorite aurora spots for photographers include Jökulsárlón glacier lagoon on the South Coast and Kirkjufell mountain on Snæfellsnes peninsula in West Iceland.
Staying safe while out northern lights hunting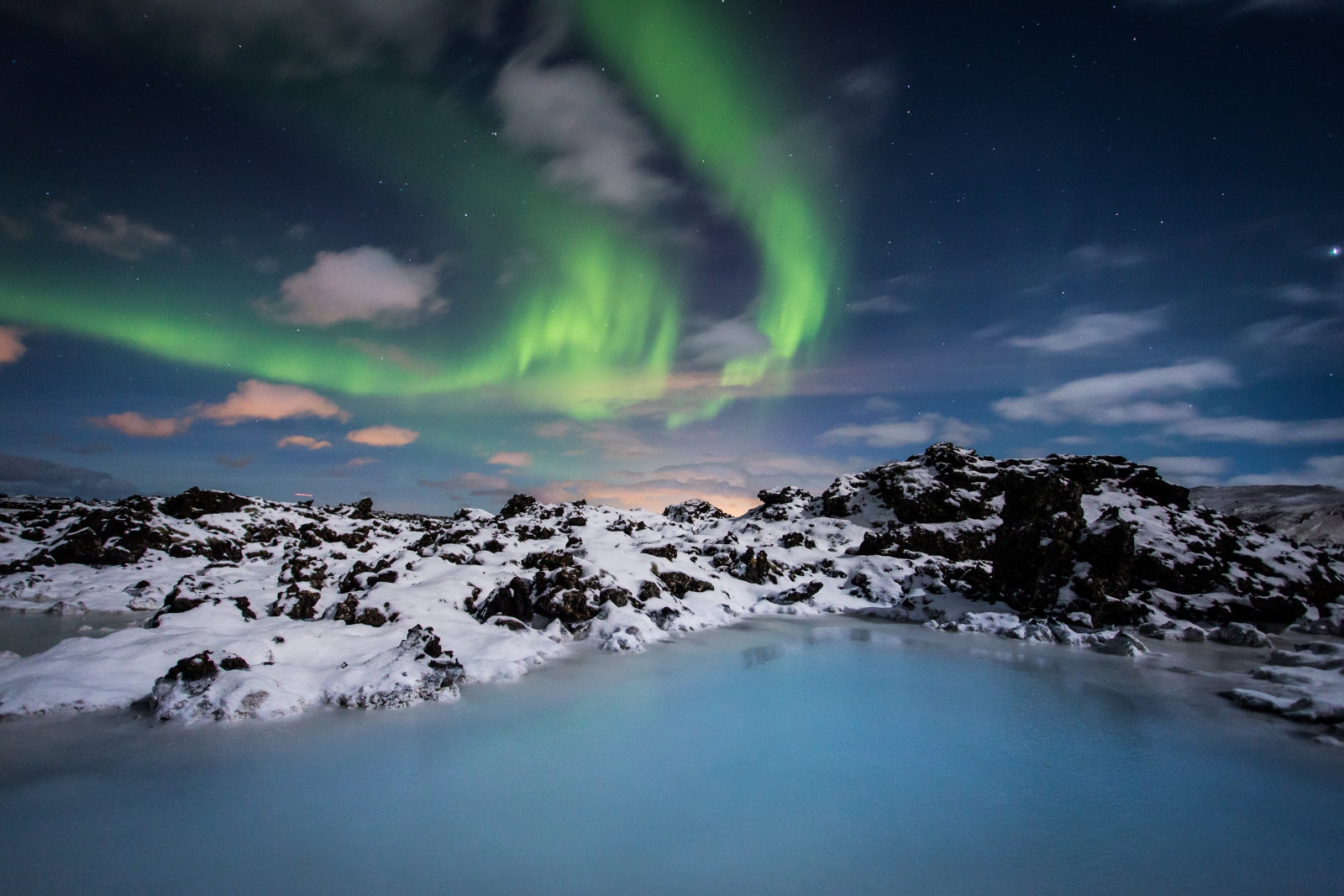 Going northern lights hunting in Iceland is an exciting, and often once-in-a-lifetime, experience. To enjoy it to its fullest, be sure to stay safe.
There is plenty of advice for staying safe when traveling in Iceland in winter, including tips on weather and safe driving.
You will also find up-to-date weather and aurora forecasts from the Icelandic Met Office, and information on road conditions from the Icelandic Road and Coastal Administration.
If you plan to visit a remote area, it is a good idea to let someone know where you are heading. Safe Travel, from the Icelandic Association for Search and Rescue, allows you to submit a travel plan so that authorities can know where you are in case of an emergency.
We recommend taking a fully charged cell phone and a power bank with you when you go out – when temperatures are low, a phone battery can drain faster than normal.
A big part of staying safe is also dressing well for the weather. It is important to wear warm and waterproof clothing that you can layer up, so that you stay cozy well into the night.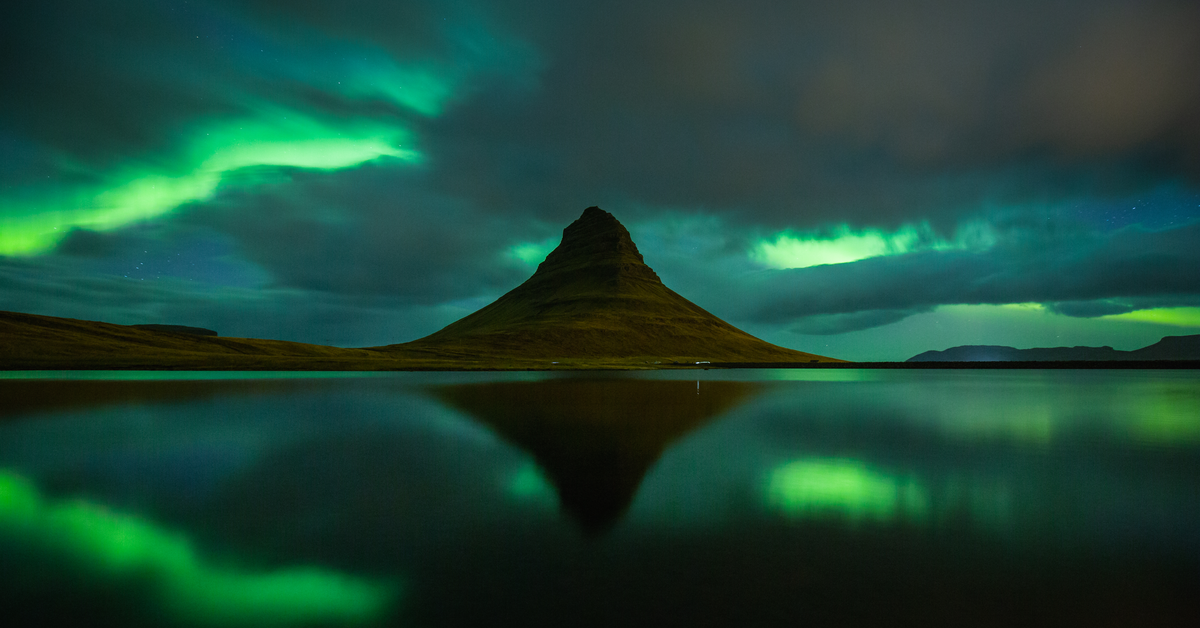 How to pack for watching the northern lights in Iceland
If you're traveling to Iceland with the goal of northern lights hunting, most of your packing will be dedicated to preparing for the cold. The key to this is layers.
You'll want a suitcase full of warm clothing that you can layer to suit the exact weather conditions of the day and be sure that your outer layer is wind- and waterproof.
Here are some ideas of exactly what to wear for hunting the northern lights in Iceland:
An underlayer or base layer of clothing – both top and trousers
Thick, warm socks – possibly multiple pairs
Warm fleece or woolen layers – especially jumpers and/or sweaters
Scarf, hat and gloves
Sturdy and warm walking boots
Waterproof and windproof jacket and trousers
You might also like to pack a warm thermos of coffee, tea, or hot chocolate to give you a little boost of heat during the coldest part of the night.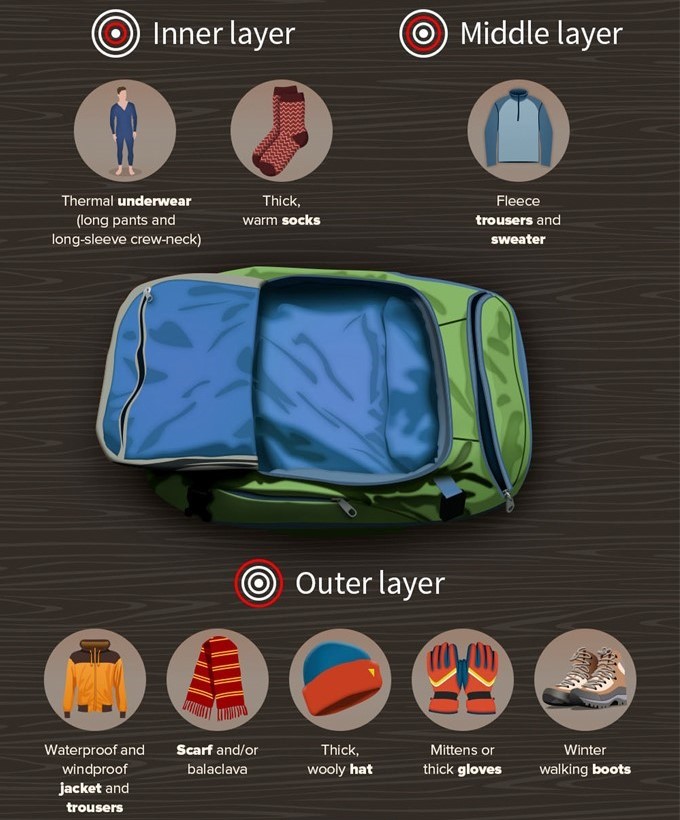 Packing tips
It can be tricky to know how to fit it all in your suitcase, especially if you're traveling as a family, so here are our top packing tips to make sure you have everything you need with you in Iceland:
Thick gloves are often bulky, making it nearly impossible to operate your camera, use your cell phone, or even zip up your coat. Wear a pair of thin, microfiber gloves underneath your mittens to keep your fingers warm and allow you the flexibility to operate and move as you need to.
Wearing your bulkiest items while you travel can free up a lot of space in your suitcase.
Nature doesn't mind what you look like, so always choose substance over style when you're choosing what items to pack.
If you're really struggling for space, try reorganizing your suitcase and rolling clothing up, as you would a sleeping bag, instead of laying it flat. This will save you space and keep your clothing neat.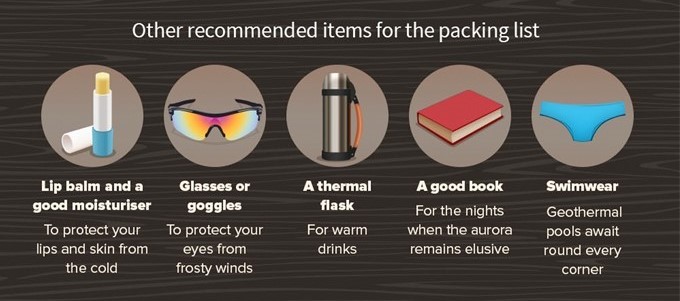 How to photograph the northern lights in Iceland
So now you're all set for your aurora borealis adventure, you'll want to make sure you capture a photo of the trip to bank as a memory. If you're joining a guided tour, you'll likely find that your guide can help you with handling your camera and taking a good photo of the lights.
However, photography tips will be helpful for those who wish to venture off alone, or those who are seasoned travelers to Iceland and simply want to be able to take photographs of the lights.
If you're looking to photograph the northern lights, here's what you'll need to pack:
A stable tripod - to keep the camera still while the photograph captures.
A remote shutter – to remove the possibility that you knock the camera slightly while the photo is capturing.
A wide-angle lens – to allow you to capture as much of the sky as possible in your picture.
Spare batteries and memory cards – so that you avoid running out of space or charge in your devices right as the show kicks off.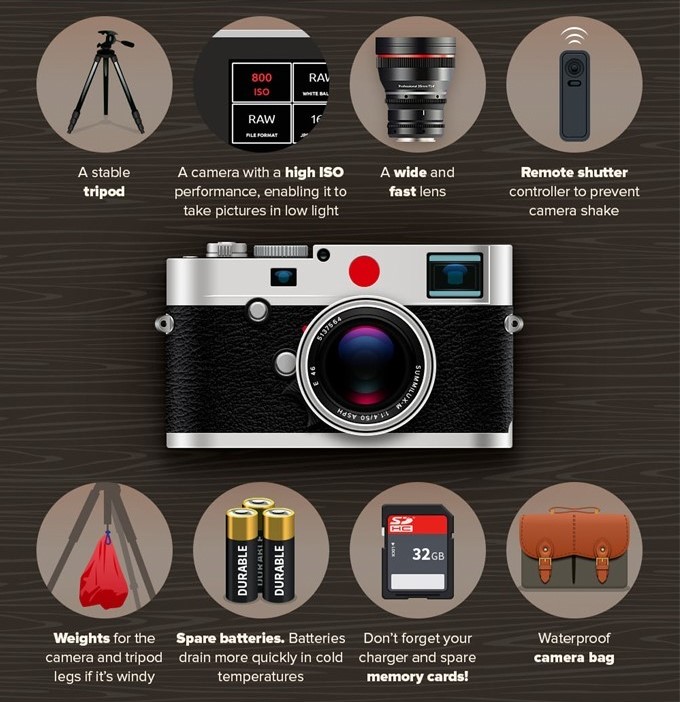 Photography tips
Watching the aurora borealis can reveal to you just how unpredictable they are. However, trying to capture them on a camera really is a unique art form.
Here are some tips to keep in mind while photographing the northern lights in Iceland, to ensure you have the best chance of capturing the magnificent moment:
Use the long exposure on your camera to find the aurora – the camera sees better than eyes do and may pick it up even if it's not visible to the naked eye.
Don't use filters on your lens as they can cause interference and the best aurora pictures are taken without filter interference.
If you're using a lens with a f/2.8 aperture (which is recommended), try an ISO of 800 to get you started, but settings will vary depending on the strength of the lights.
Use the moon or a bright star to check the focus of your camera and adjust as needs be.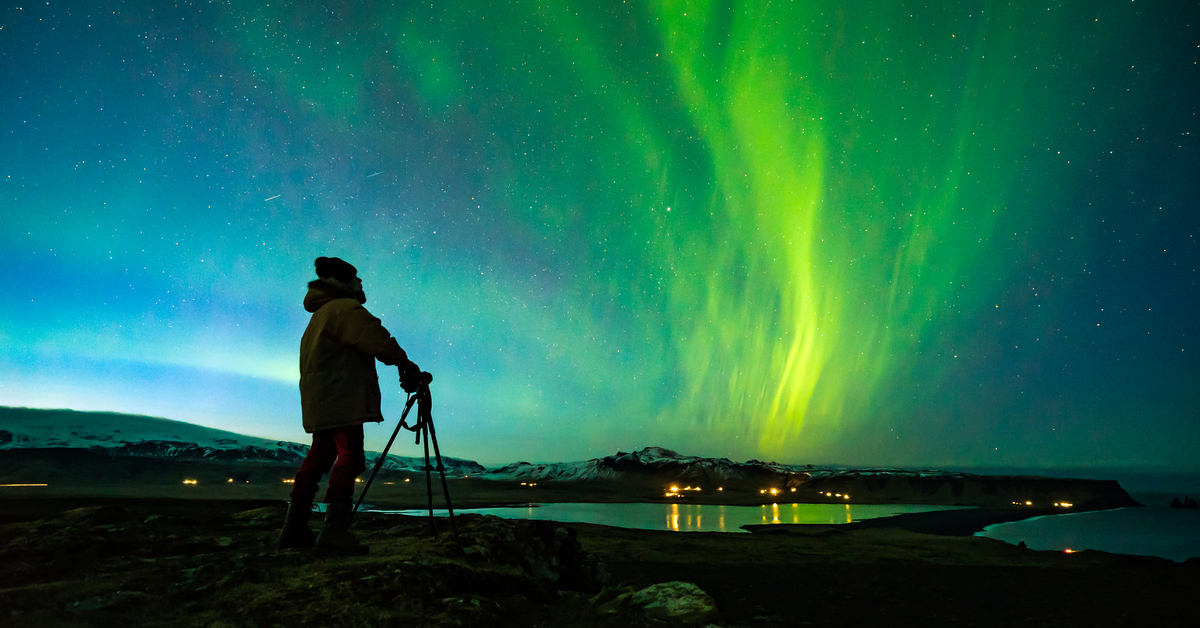 So now you know a little more about the magic of the northern lights in Iceland, you can make plans to tick this travel destination off your bucket list.
We would love to welcome you to Iceland, and we hope the skies light up with aurora during your visit. Book a flight to, from, or via Reykjavík and we look forward to welcoming you onboard soon!