06/01/2022 | 6:00 AM
Get to know Greenland
Icelandair flies to 4 destinations in Greenland: capital city Nuuk, the 'city of icebergs' Ilulissat, southern Narsarsuaq, and east-coast Kulusuk. Flight times between Iceland and Greenland are just 2 to 3.5 hours.
Flights from Iceland to Greenland destinations all depart from Keflavík airport, making connections with North America and Europe easy.
Read more about connections on our Greenland overview page.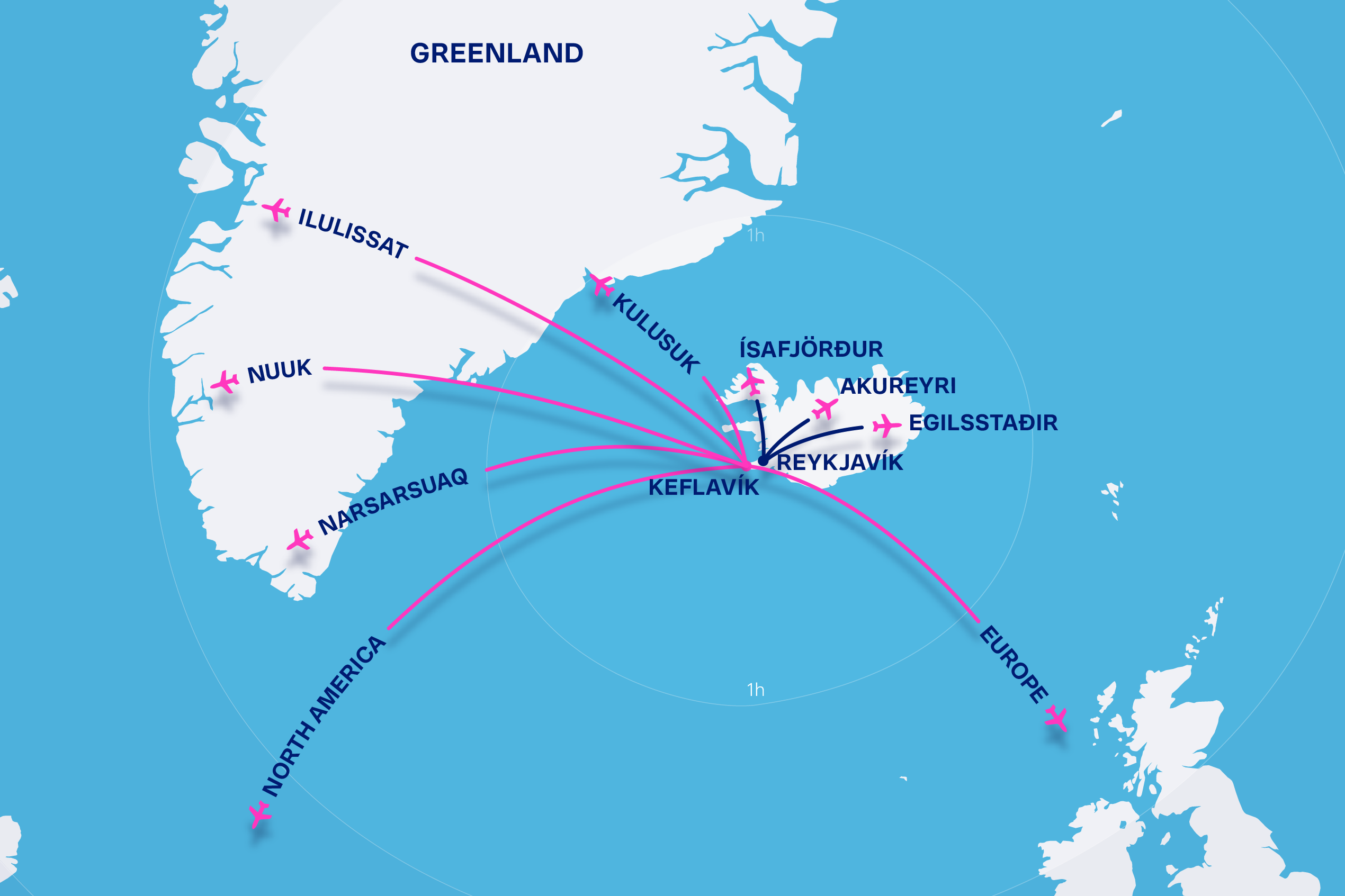 Chills and thrills at the top of the world
Text by Jonas Moody. Banner photo of sled dog by Benjamin Hardman.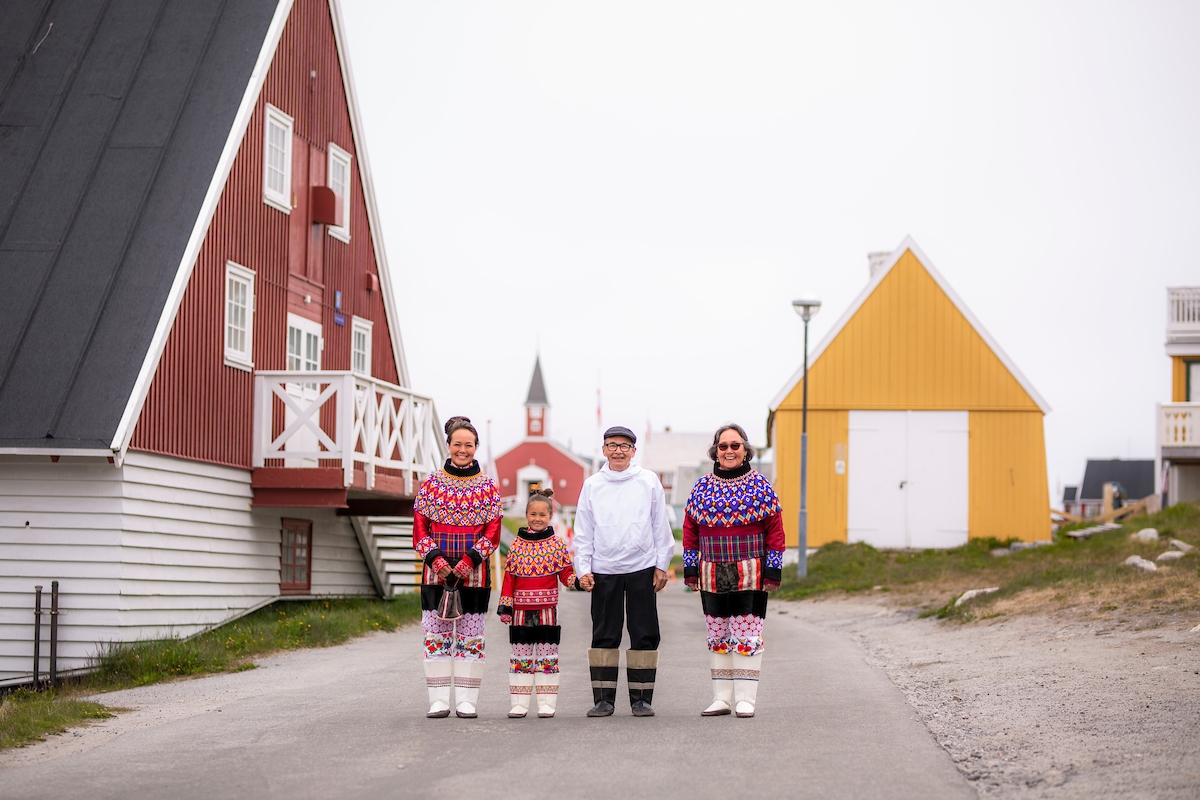 A family in traditional clothing on National Day. Photo by Aningaaq R Carlsen / Visit Greenland.

On paper, Greenland is a land of extremes: world's largest island, most sparsely populated country on Earth, home to the oldest fossils and largest ice sheet outside of Antarctica, the continuous daylight in northern villages from April to August and continuous night in the winter.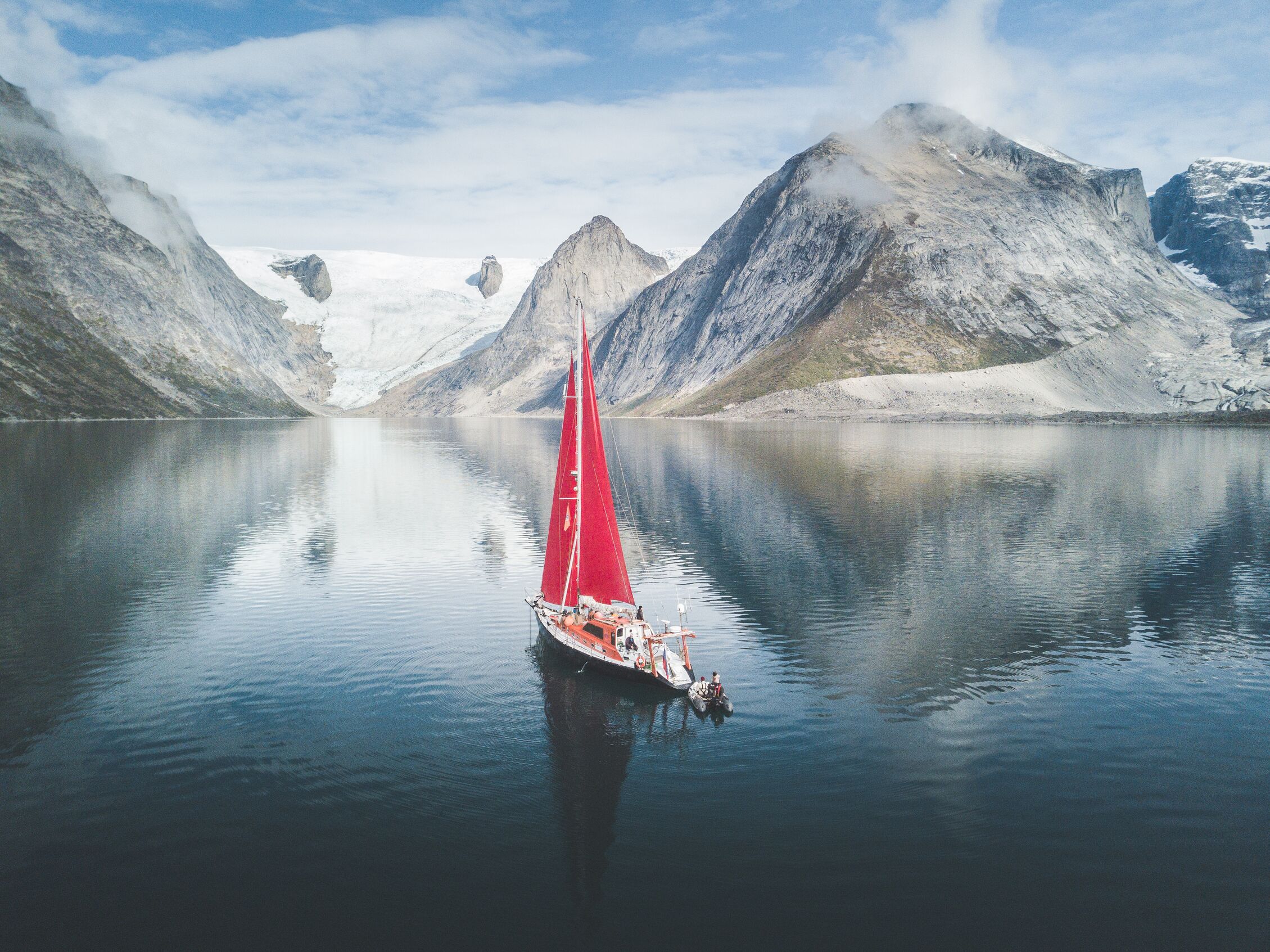 Sailing among the peaks and ice of South Greenland. Photo by Artica Studios.

But on the ground, facts and figures fade in comparison to the vastness one encounters in every direction, be it the frozen mountains extending to the horizon, the sapphire blue of endless Arctic seawater, the boundless ice fields, or the otherworldly quality of polar light in the summertime, brilliantly bright yet diffuse and gentle.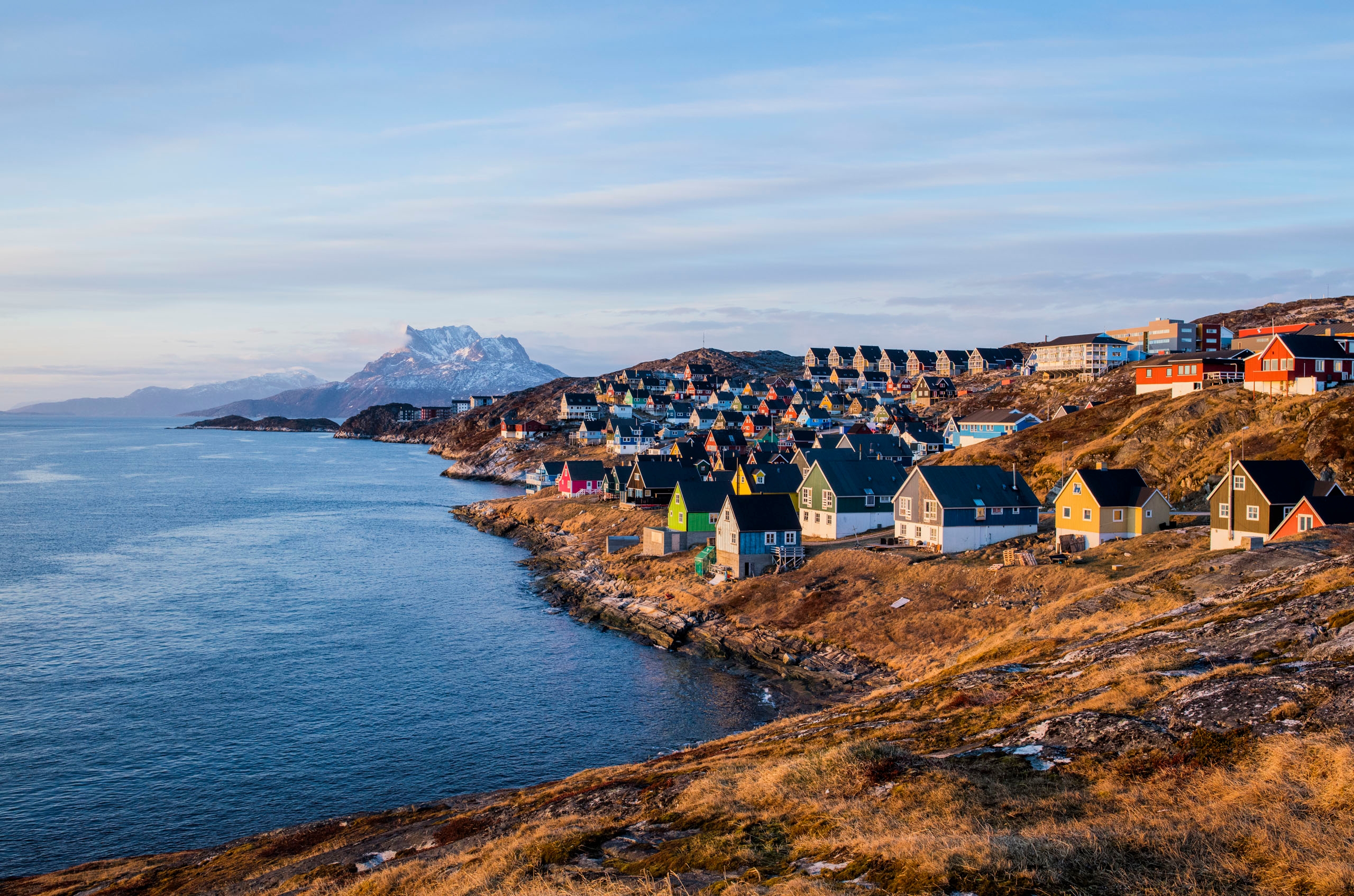 Colorful houses of Nuuk. Photo by Hörður Ásbjörnsson.

In a land of such rarefied people living at the top of the globe, the Greenlanders are a lighthearted bunch who are proud of their country and eager to share it with visitors. The native population still revels in their heritage as hunters, fishermen and craftspeople, but you'll also find Internet entrepreneurs, epicurean coffee baristas and amateur soccer heroes training every daylight hour (which essentially means one never-ending game all summer long).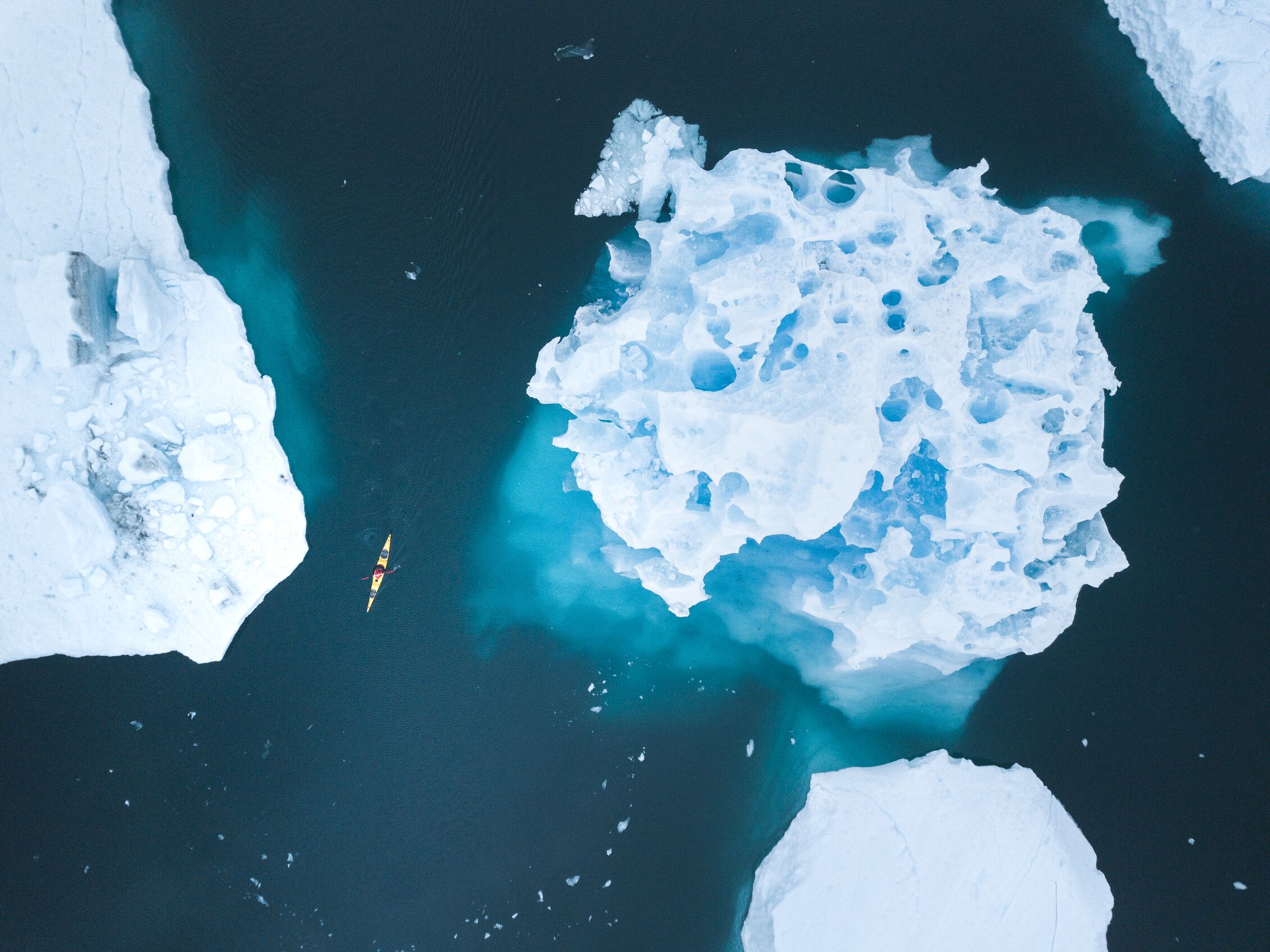 Kayaking among the ice. Photo by Arctica Studios.

It's hard to resist the call of the great polar wild, whether you choose to kayak through glacial lagoons alongside narwhals, heli-ski down frozen mountainsides, or track reindeer, walruses or the elusive polar bear on a photo hunt. For a truly unforgettable experience, pull on sealskin clothes and kamik boots (made of sealskin), and mount up on a dogsled. The Arctic winds whip around you as you sail over the snow behind a team of spirited paws. Dogsledding is not only an exhilarating way to take in the eye-popping landscape, it's an authentically Greenlandic experience rooted deeply in Inuit culture. With most villages spread along the narrow, ice-free coastline, there are no roads connecting communities. Dog sledding is not just a pastime in Greenland; it's a way of life.
A visit to Greenland is a unique adventure. Life at the top of the world means you're in for a thrilling ride.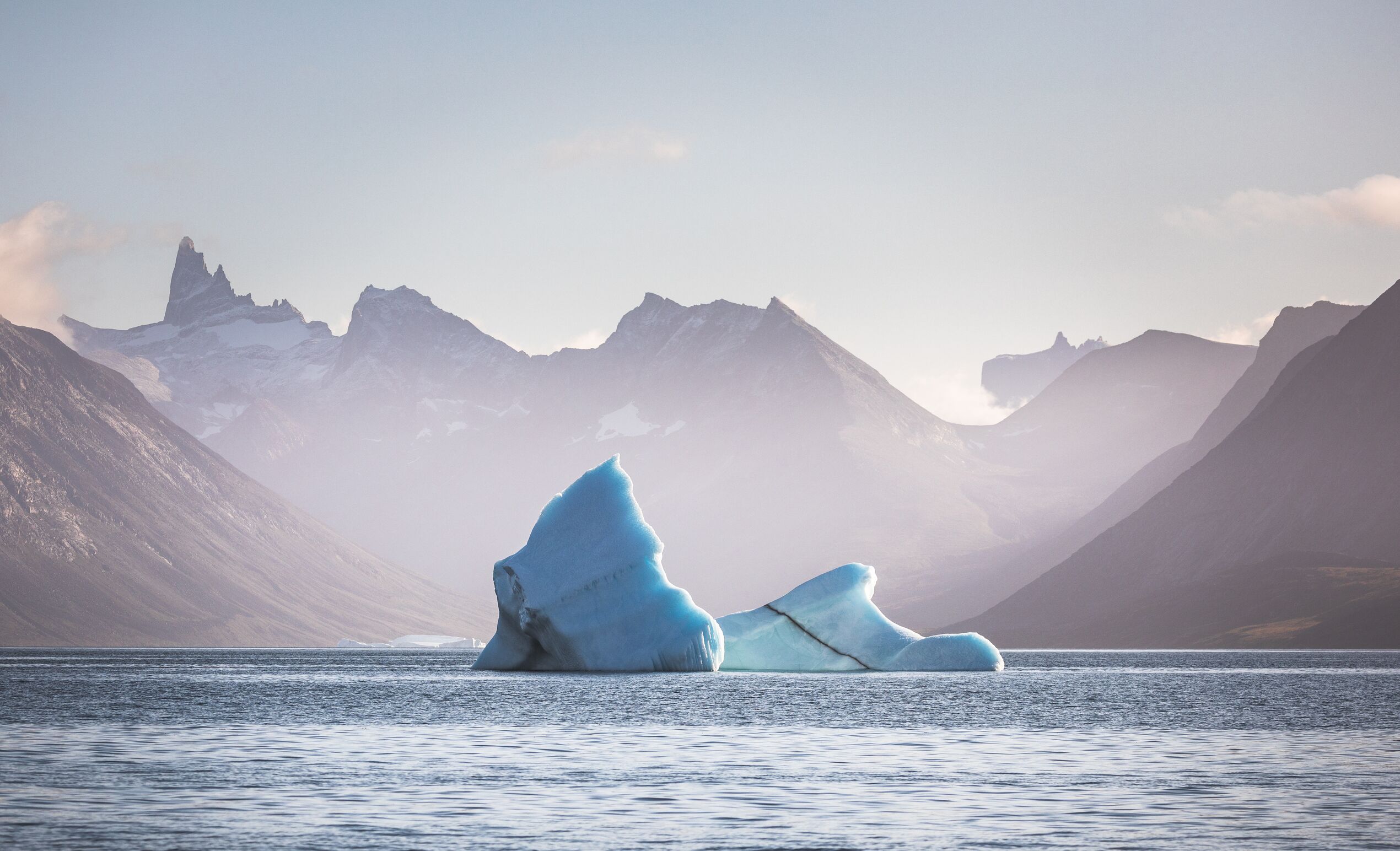 Narsarsuaq highlights. Photo by Arctica Studios.

More information
Read more about Greenland on our site:
Icelandair flights to Greenland – where we fly in Greenland, and other key information about Icelandair's services
Summer in Nuuk – experience Greenland's capital and surrounds under the midnight sun
Winter above the Arctic Circle – be dazzled by the frozen icefjord oasis known as Disko Bay
Goals and glaciers: Greenland's footballing future – insights into the state of football in Greenland
Nikolaj Coster-Waldau: Against the Ice – the actor talks to us about Greenland, Iceland and movie-making