Visiting Greenland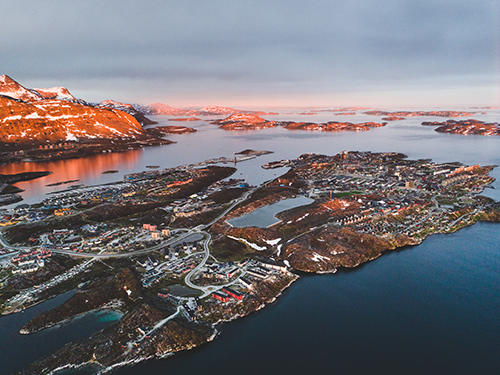 Fly to Greenland in summer
Although Greenland experiences four distinct seasons, it is the summer and winter months that tend to draw the biggest crowds.
Travellers looking to spend summer in Greenland can expect stunning nature and long days to enjoy it.
Summer in Greenland runs between June and August and this is a prime time for watching the landscape come to life. You can enjoy long days with the midnight sun, observe tundra in bloom, or go on hiking and boating expeditions. Destinations like Nuuk are idyllic in the warmer months.
From breathtaking landscapes, glacial fjords, and unique wildlife, there are plenty of reasons to get to know Greenland better.
Winter in Greenland: what to expect
Winter runs between October and February. This is the time of year when temperatures drop below freezing and the landscape is covered in a sheet of white snow.
Those travelling north of the Arctic Circle in winter will experience shorter days but can enjoy the stunning snowscape lit up by the Northern Lights from almost anywhere.
The longer nights bring with them the opportunity to spot the Northern Lights and wildlife like musk ox and reindeer. Winter above the Arctic Circle can become inaccessible by vehicle, but dog sleds, boats, and snowmobiles are recommended.
But no matter when you visit Greenland, you're guaranteed the trip of a lifetime.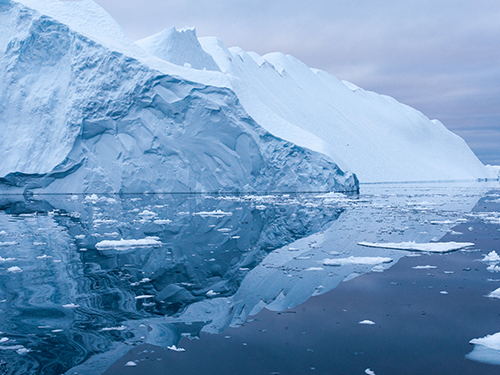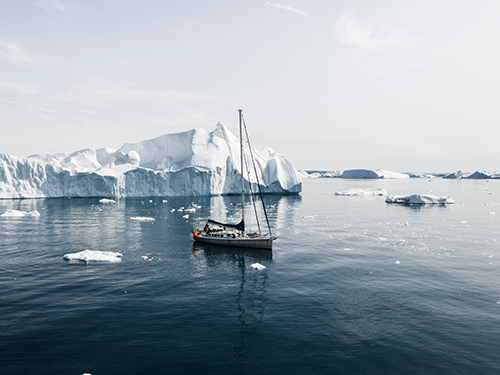 Travelling within Greenland
There are no trains and roads between the communities in Greenland, due to the great distances between them.
The main forms of transport include airplanes, boats, helicopters, and dog sledding.
Taking a boat or ship is the most cost-effective way to travel around Greenland, and hopping aboard a cruise around Greenland is a popular way to explore the country. That said, many travellers opt for plane travel due to the speed and comfort of the journey.
Those looking for a once-in-a-lifetime experience might opt to take a helicopter over the stunning ice-covered landscapes of the country. But if you want to keep your feet on the ground and still enjoy an unforgettable experience, try going dog-sledding through the stunning landscapes.
Getting to Greenland with Icelandair
Icelandair offers flights to Greenland via Iceland from Dublin, Ireland. Icelandair makes it easy for travellers to explore this huge, other-worldly island just a couple of hours flying distance from Reykjavík.
Our flights between Iceland and Greenland are operated on De Havilland Canada (DHC) aircraft, and due to their smaller size, the service on board is limited compared to that on board the larger Boeing aircraft that connect Iceland with Europe and North America.
Baggage allowances for Greenland flights are not the same as for international flights connecting Iceland with Europe and North America. So if you are connecting on flights to Greenland, we recommend checking the baggage allowance. Also, note that there are some restrictions to hand luggage due to smaller overhead compartments.
We have a selection of options in terms of classes of service on flights from Iceland to Greenland.