Book your flight to Helsinki with Icelandair from
Fly in the next three months: Flights to Helsinki
Seattle (SEA)to
Helsinki (HEL)
Feb 02 2024 - Feb 07 2024
Seattle (SEA)to
Helsinki (HEL)
Jan 28 2024 - Feb 07 2024
Seattle (SEA)to
Helsinki (HEL)
Feb 20 2024 - Feb 28 2024
Boston (BOS)to
Helsinki (HEL)
Jan 13 2024 - Jan 27 2024
Boston (BOS)to
Helsinki (HEL)
Feb 20 2024 - Feb 29 2024
Boston (BOS)to
Helsinki (HEL)
Feb 02 2024 - Feb 19 2024
Washington, D.C. (IAD)to
Helsinki (HEL)
Dec 03 2023 - Dec 11 2023
Washington, D.C. (IAD)to
Helsinki (HEL)
Dec 10 2023 - Dec 17 2023
Washington, D.C. (IAD)to
Helsinki (HEL)
Jan 12 2024 - Jan 17 2024
Orlando (MCO)to
Helsinki (HEL)
Jan 21 2024 - Jan 27 2024
Orlando (MCO)to
Helsinki (HEL)
Dec 09 2023 - Dec 13 2023
Orlando (MCO)to
Helsinki (HEL)
Dec 09 2023 - Dec 12 2023
*Fares displayed have been collected within the last 72hrs and may no longer be available at the time of booking
Plan ahead for your trip to Helsinki with Icelandair
From

Seattle (SEA)

To

Helsinki (HEL)
Round trip

/

Economy
Mar 20 2024 - Mar 30 2024

From

USD 524*

From

Seattle (SEA)

To

Helsinki (HEL)
Round trip

/

Economy
Mar 19 2024 - Mar 29 2024

From

USD 567*

From

Seattle (SEA)

To

Helsinki (HEL)
Round trip

/

Economy
Nov 06 2024 - Nov 13 2024

From

USD 574*

From

Boston (BOS)

To

Helsinki (HEL)
Round trip

/

Economy
Mar 11 2024 - Mar 23 2024

From

USD 424*

From

Boston (BOS)

To

Helsinki (HEL)
Round trip

/

Economy
Mar 17 2024 - Mar 24 2024

From

USD 502*

From

Boston (BOS)

To

Helsinki (HEL)
Round trip

/

Economy
Apr 10 2024 - Apr 21 2024

From

USD 659*

From

Minneapolis (MSP)

To

Helsinki (HEL)
Round trip

/

Economy
Mar 27 2024 - Apr 05 2024

From

USD 494*

From

Minneapolis (MSP)

To

Helsinki (HEL)
Round trip

/

Economy
Apr 24 2024 - May 04 2024

From

USD 650*

From

Minneapolis (MSP)

To

Helsinki (HEL)
Round trip

/

Economy
May 15 2024 - Jun 18 2024

From

USD 1,070*
*Fares displayed have been collected within the last 72hrs and may no longer be available at the time of booking
What to see and do in Helsinki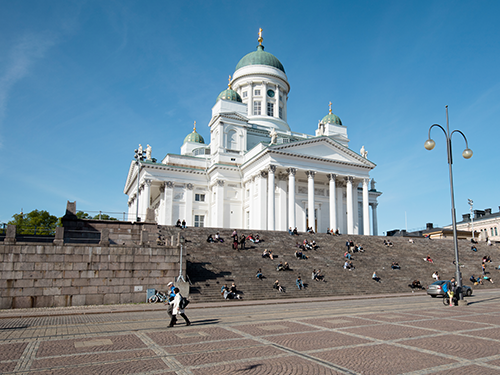 Things to do in Helsinki
The quiet achiever of the Nordic gang of capitals, Helsinki tends to fly under the radar. But it deserves a wide audience - for its cool quirks, sauna culture, great design, and the gorgeous outdoors at its doorstep.
Architecturally, Helsinki is a unique blend of styles, putting its own spin on its Swedish and Slavic influences with a side order of splendid art nouveau.
Design aficionados may have heard of homegrown architecture and design heavyweights like Alvar Aalto and Eero Saarinen.
But there's also a photogenic face-off of the Lutheran and Orthodox cathedrals near Senate Square, nicely contrasted with the earthy pleasures of the remarkable Temppeliaukio Kirkko (Rock Church), built into a piece of granite.
Activities in Helsinki
If you want to get under the skin of this city's creativity, seek out Punavuori neighborhood, at the heart of Helsinki's design district. The area is dotted with whimsical boutiques, vintage stores, galleries, and workshops of young designers.
Marimekko, for example, is renowned for its bright, cheerful fabrics, made into clothing and home furnishings. Meanwhile, Iittala makes stunning tableware and glassware. The harborside kauppatori (market square) is a great spot for souvenirs, market produce and boat tours.
For a quintessential Helsinki excursion, grab picnic supplies and take the 15-minute ferry ride to Suomenlinna, a maritime fortress built over six small islands. Afterwards, end a perfect Finnish day with a sauna - modern at the beautifully situated Allas Sea Pool, or go old-school at the wood-fired Kotiharju Sauna, built in 1928.
Want to make the most of your trip? A Helsinki card will give you access to the city's numerous museums and attractions, which is ideal if you're spending a few days in the capital.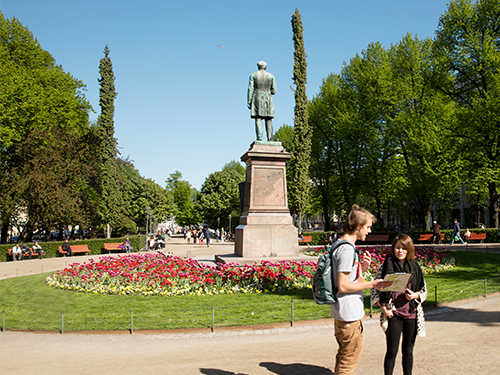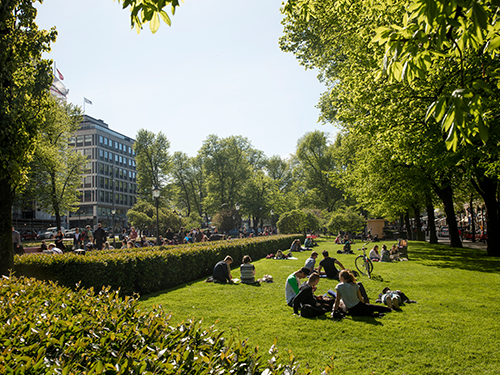 Fly to Helsinki in the summer or winter
The southern Finnish capital of Helsinki experiences the extremes of typical Nordic weather, but this variety makes it a highly rewarding destination for tourists and locals alike.
Helsinki summers promise the phenomenon of near-midnight sun, with up to 19-hour days in late June.
Longer, warmer days bring with them ideal conditions for sightseeing, activities, and festivals – though we can't promise it'll be dry all summer long. If you're planning on booking airline tickets to Helsinki between June and August, then make sure to plan your trip in advance as it can be pretty busy around this time.
Winter on the other hand brings darker days and icy temperatures, but it's great for experiencing all the city has to offer.
This includes snow sports, saunas and a thriving nightlife scene, plus lots of festive events and markets in the run up to Christmas. You'll likely be able to find the cheapest flights to Helsinki during November to March, except for December when the festivities are at their peak.
Travel to Helsinki in the shoulder seasons
To beat some of the crowds while enjoying more of the city by daylight, then planning your trip to Helsinki in spring or fall offers the perfect balance.
In spring, the days become longer, and you'll witness nature coming into full bloom – from lush green parks to beautiful cherry blossoms. The stunning scenery and exciting events during this season fill the city with soul and vibrancy.
Similarly, in fall, days are shorter than in summer but there's still plenty of time to witness the stunning changes in nature and scout out numerous festivals and events. Early spring and late fall are also among the best times to get a glimpse of the Northern Lights, making these seasons all the more magical.
Whenever you're thinking about traveling, be sure to book your tickets to Helsinki in advance. Use the flight finder tool above to view the latest flights to Helsinki, Finland.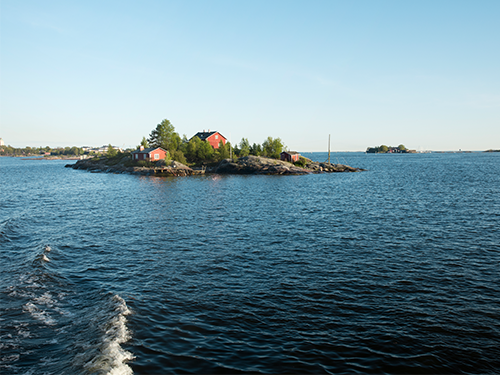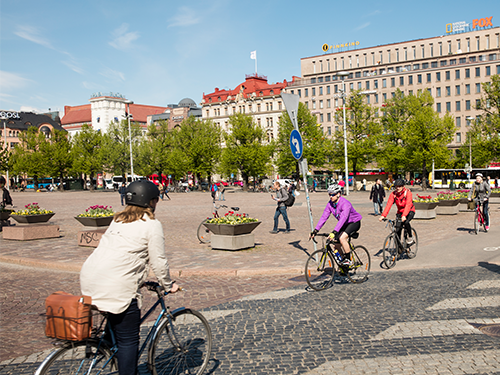 Getting around Helsinki
It's relatively easy to get around Helsinki city center. In fact, most major attractions, museums and sights such as Senate Square and the main harbor are within walking distance of one another.
Cycling is another popular way to get around (albeit in the summer), and it's made easy by the 1200km network of bike paths that make up the city's Baana corridor.
If you're going further afield, then you can take advantage of Helsinki's fantastic public transport system, HSL. Services include buses, metros, trams, trains, and ferries that you can board with a single ticket.
You can take the boat to the island of Suomenlinna with a HSL ticket but note that exploring most of Helsinki's other islands requires buying tickets from separate ferry operators.
Dining in Helsinki
The new Nordic food movement spread to Finland, and Helsinki is home to some first-class fine-dining restaurants, where farm-fresh and forest-foraged ingredients shine. Look for menus that showcase local fish and some left-of-center meats like reindeer, moose, and even bear.
For dining like a local, make a beeline for a kauppahalli (market hall). Vanha Kauppahalli has been selling produce since 1888: Finnish favorites like smoked fish, cinnamon buns, rye bread and super seasonal harvests are all on offer in a gorgeous setting.
Seasonal wild mushrooms and berries are well worth seeking out. Try the revered, amber-colored cloudberry for a highly prized summertime treat.
For drinking like a local: grab a coffee, and then another. Did you know Finns drink more coffee than any other nationality? Sample unique blends at a variety of local cafes and coffeshops and immerse yourself in the ritualistic and unforgettable Finnish coffee culture.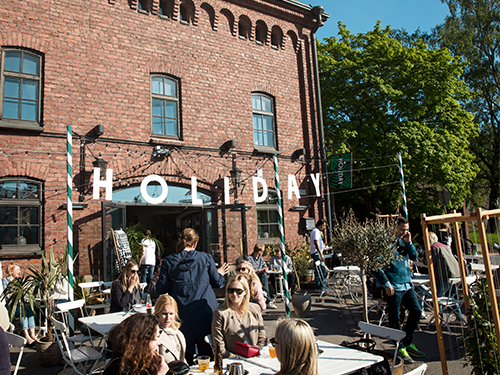 FAQs about travel to Helsinki
Helpful information for travelers to Helsinki
How long is a flight to Helsinki from the US?
Which US airports offer flights to Helsinki, Finland?
How do you get from Helsinki Airport to the city center?
Is it better to go to Helsinki or Oslo?
Make the most of your trip