Book your flight to Milan with Icelandair from
Fly in the next three months: Flights to Milan
Chicago (ORD)to
Milan (MXP)
Jan 08 2024 - Jan 19 2024
Boston (BOS)to
Milan (MXP)
Feb 20 2024 - Feb 28 2024
Baltimore (BWI)to
Milan (MXP)
Jan 14 2024 - Jan 21 2024
Boston (BOS)to
Milan (MXP)
Feb 20 2024 - Mar 05 2024
New York (JFK)to
Milan (MXP)
Jan 26 2024 - Jan 30 2024
New York (JFK)to
Milan (MXP)
Dec 25 2023 - Jan 02 2024
Minneapolis (MSP)to
Milan (MXP)
Dec 12 2023 - Jan 01 2024
*Fares displayed have been collected within the last 72hrs and may no longer be available at the time of booking
Plan ahead for your trip to Milan with Icelandair
From

Seattle (SEA)

To

Milan (MXP)
Round trip

/

Economy
Jul 11 2024 - Jul 14 2024

From

USD 1,198*

From

Seattle (SEA)

To

Milan (MXP)
Round trip

/

Economy
Mar 30 2024 - Apr 14 2024

From

USD 1,387*

From

Seattle (SEA)

To

Milan (MXP)
Round trip

/

Economy
May 30 2024 - Jun 18 2024

From

USD 1,420*

From

Washington, D.C. (IAD)

To

Milan (MXP)
Round trip

/

Economy
Mar 15 2024 - Mar 22 2024

From

USD 965*

From

Washington, D.C. (IAD)

To

Milan (MXP)
Round trip

/

Economy
Mar 23 2024 - Mar 31 2024

From

USD 1,115*

From

Washington, D.C. (IAD)

To

Milan (MXP)
Round trip

/

Economy
Jul 04 2024 - Jul 18 2024

From

USD 1,177*

From

Newark (EWR)

To

Milan (MXP)
Round trip

/

Economy
Sep 21 2024 - Oct 07 2024

From

USD 900*

From

Newark (EWR)

To

Milan (MXP)
Round trip

/

Economy
Mar 22 2024 - Apr 01 2024

From

USD 1,596*

From

Chicago (ORD)

To

Milan (MXP)
Round trip

/

Economy
Mar 28 2024 - Apr 06 2024

From

USD 945*
*Fares displayed have been collected within the last 72hrs and may no longer be available at the time of booking
What to see and do in Milan, Italy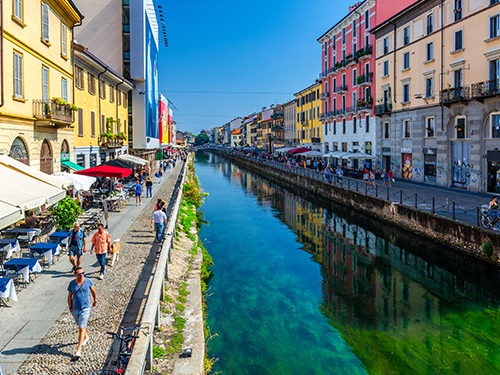 Best time to fly to Milan, Italy
The best time to plan a vacation to Milan is in the spring or fall – from April to May or September to October. These seasons have the benefit of pleasant weather and a lively atmosphere without the bulk of the tourist crowds and the sweltering summer heat.
Although flying to Italy is popular in the summer months, temperatures can reach the high 80s F (low 30s C), with humidity in the city making it feel a lot hotter. August is probably the busiest month to travel to Milan, as it's when most Italians go on vacation.
Due to the high level of tourism in the city during peak season, we'd recommend booking your airline tickets to Milan, Italy, well in advance.
Milan's off-season is during the winter months of November to March. You're more likely to be able to find cheap flights to Milan during this time. However, there are considerably lower temperatures coupled with foggy weather and a very quiet city center, with some attractions and restaurants closing.
Getting around Milan
The best way to get around Milan is by the city's efficient public transport system – the ATM (Azienda Trasporti Milanesi). The system includes buses, subways, and trams, which have extensive coverage and are low-cost.
If you're staying near the city center (close to the Duomo), then exploring Milan on foot is another good option. Many of Milan's main tourist attractions are a few blocks away from each other, as are stores and amenities.
Metered taxis also operate around Milan, in addition to services like Uber and Lyft. They're good for a couple of one-off journeys but can get expensive if you use them as your only mode of transport. You can hire a car, but it's not recommended due to the costly parking and traffic in the city.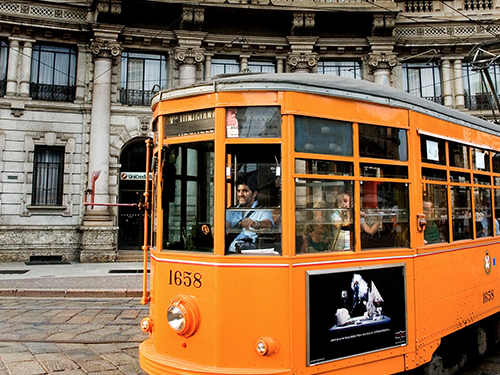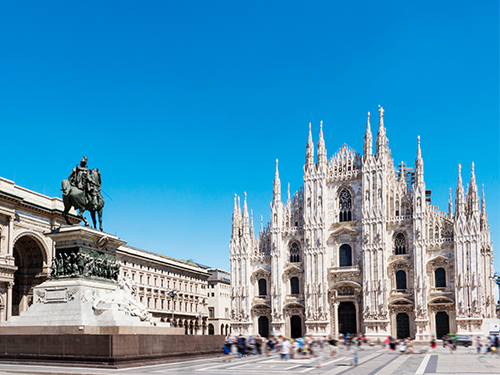 Historic sights in Milan
Show-stopping art, a passion for fashion, mouth-watering food, and a football powerhouse - Milan ticks all of the boxes.
Leonardo da Vinci's Last Supper mural was painted in the late 15th century, and you can see it up close in the Santa Maria delle Grazie church.
The Duomo di Milano, Milan's grand cathedral, is another must-see - it's huge, built from marble, and houses some astonishing stained glass.
Its rooftop is a highlight for stunning statues, spires, and inspirational views. But be sure to book ahead for your visits to these attractions – tickets sell out fast!
Theatre and art in Milan
There are more artistic treasures to unearth at the Pinacoteca di Brera gallery, and contemporary art brings many culture-vultures to the city.
Head to the Museo del Novecento for some of the best twentieth-century art in Milan, located in the Piazza del Duomo.
Theater lovers will want to take a trip to Teatro La Scala, a famous opera house whose premier performance was Antonio Salieri's 'Europa riconosciuta'. This famous opera house opened in 1778, and has an interior decked out in pure gilt-edged style.
Milan is a city which is home to some of the most important historical theatres in Italy, and possibly the largest number of theatres. Explore Teatro degli Archimboldi, Nazionale, della Cooperative, Manzoni or Studio del Piccolo.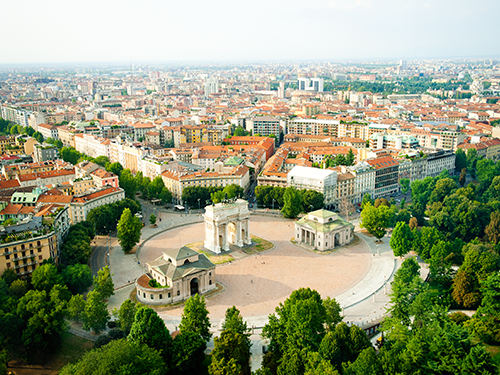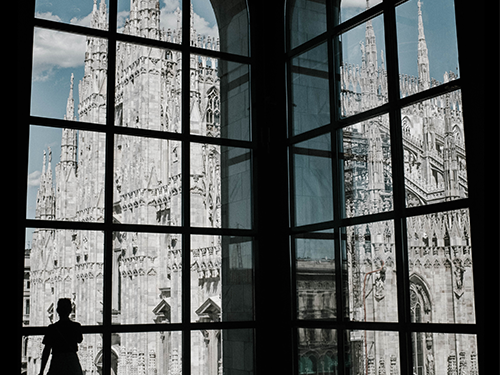 Shopping Milanese fashion
Milan has long been considered one of the world's fashion capitals, and major Italian labels like Prada, Armani, Versace, and Valentino have their headquarters here. Be sure to visit the chic shopping district, known as the 'Quadrilatero d'Oro' (the 'Golden Rectangle') just north of the Duomo.
Hosted twice annually, Milan Fashion Week solidifies the city's status as a fashion powerhouse. Fashion enthusiasts come to the city in their droves during that week, giving the city a buzz that everyone will want to be part of.
Even if you're not visiting Milan to shop until you drop, we recommend stopping by the landmark Galleria Vittorio Emanuele II. It's a shopping arcade from the 1860s that drips with architectural elegance.
If you need a breather from the designer price tags, hit the food emporiums to enjoy a tasty browse or to navigate neighborhoods like Brera and Navigli.
Italian dining at its finest
We all know that food is an essential feature of any trip to Italy, and Milan takes it up a notch with fine signature dishes like the golden-hued risotto alla milanese (heavy on butter, colored with saffron) and cotoletta alla milanese (breaded veal cutlet, cooked in more butter).
You can track down small back-street trattorias, fun cafes and wine bars, and plenty of Michelin-starred marvels. Great neighborhoods to scout at mealtime include Brera and Navigli.
To fuel your appetite further, don't miss a visit to Peck, a revered food store that's been satisfying local cravings since 1883.
And be sure to embrace the cherished local custom for aperitivo, a leisurely pre-dinner drink accompanied by tasty snacks. It's the Italian happy hour, done in style.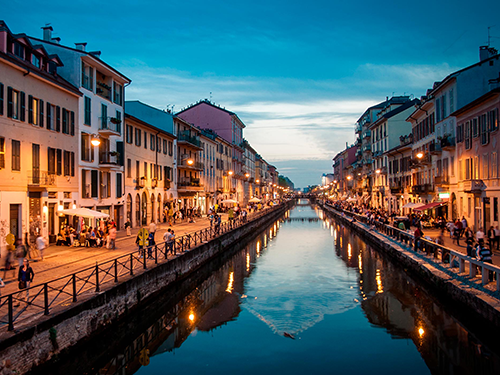 FAQs about travel to Milan
Helpful information for travelers to Milan
Where do you fly to for Milan?
What US airports fly to Milan?
Where is the cheapest place in the US to fly to Italy?
Do you need a visa to visit Milan?
Make the most of your trip