Book your flight to Verona with Icelandair
Fly in the next three months: Flights to Verona
Please use the search function at the top of the page to find our best flight deals
*Fares displayed have been collected within the last 72hrs and may no longer be available at the time of booking
Plan ahead for your trip to Verona with Icelandair
Please use the search function at the top of the page to find our best flight deals
*Fares displayed have been collected within the last 72hrs and may no longer be available at the time of booking
Visiting Verona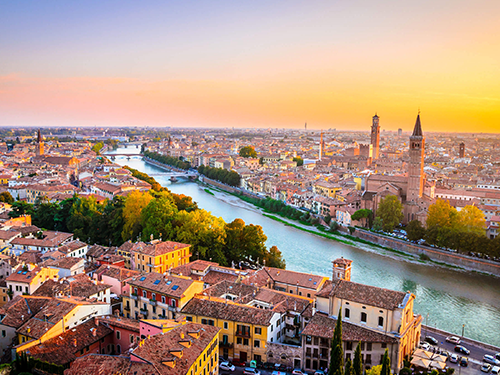 Introduction to Verona
Welcome to Verona – the city of love and romance! This is a truly unique, picturesque destination that will capture your heart from the moment you step off the plane.
Wander through its winding, cobblestone streets and sidewalks, traverse the striking ruins of the Roman amphitheater, or simply admire the city's beauty by the side of the Adige River. One thing's for certain, Verona promises to deliver an unforgettable vacation for every type of traveler.
Before you immerse yourself in Verona's infectious arts and social scene, how about soaking up some Icelandic culture first? When you book flights to Verona with Icelandair you can add a stopover in Iceland at no extra cost.
Exploring Verona
The city of Verona, North Italy, is a truly awe-inspiring destination. It's endowed with a generous selection of historical buildings, grand medieval churches, Roman city gates and grand coliseums, as well as stunning bridges across the famous Adige River, all just waiting to be discovered by you.
And if that's not enough, Verona is the setting for the greatest love story of all time, William Shakespeare's 'Romeo and Juliet'.
Verona is the perfect destination for a walking or biking tour, where you can thread your way through gorgeous piazzas and sidewalks and cross ancient bridges. Explore the city's long and narrow streets, unearthing hidden gems along your way.
Don't forget to take a stroll around the delightful botanical gardens of Giardino Giusti, which beautifully preserve the elegant garden style of the 16th century.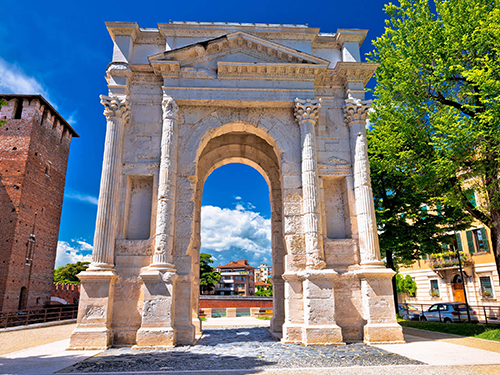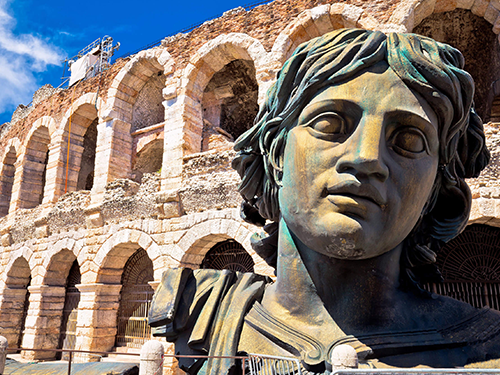 Discover Veronese history
Verona is a city steeped in history and dripping in culture, and you'll find ample opportunity to absorb everything the city has to offer.
Top of the list when it comes to historical hotspots is the 2000-year-old Roman Colosseum, where if you're lucky, you might catch a summer opera performance in the open-air setting.
If you're interested in the history of art, then be sure to head to the Castelvecchio Museum, which houses an impressive and vast collection of paintings, antiques, and statues in a stately castle from the Middle Ages.
Modern meets medieval in the museum's architecture, with parts of it having been reconstructed after WWII – retaining the medieval look on the outside but adding a modern twist inside.
Skiing around Verona
Ski lovers will appreciate the region's easy access to the Italian Alps. Many of the country's most popular ski resorts are in the vicinity. Madonna di Campiglio and Val Rendena can be found north of Verona airport, while Val Gardena and Alpe di Siusi in the Dolomites lie northeast of the airport.
The Val Gardena resort is one of the largest in Europe, thanks to its array of ski lifts that connect several large skiing areas. Selva, Ortisei and Santa Cristina are among the best-known skiing villages of Val Gardena, home to an abundance of lively bars where aprés-ski vibes reign supreme.
Plus, you can expect top-class restaurants and excellent accommodation options throughout the villages of the area.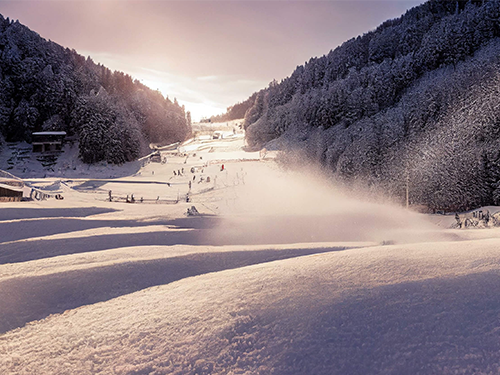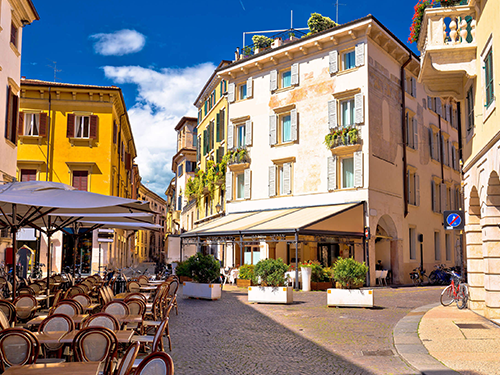 Dining in Verona
On top of its illustrious cultural history, Verona has a reputation for world-class dining. On a traditional menu, travelers can usually find pork risotto and potato gnocchi, both delightful delicacies.
The Veronese specialty of pastissada de caval is one not to be missed. It's a horse-meat stew served with carrots and onions, peppered with a variety of local, flavorsome spices.
The city of Verona is surrounded by world-renowned vineyards and wineries, many of which offer visitors the opportunity to take a tour of the premises and, of course, taste the mouth-watering product.
You're also in for a treat when it comes to the dessert menu. Try the enticing fritole (fried raisin buns with powdered sugar), the traditional star-shaped Christmas cake pandoro and of course, the classic Italian delicacy: gelato.
Shopping in Verona
Shopping in Verona offers a fabulous blend of modernity and traditional Italian charm. The city boasts a plethora of options for every type of shopper, from designer boutiques to local markets.
Start your shopping adventure at Via Mazzini, a bustling street lined with high-end stores selling everything from luxury clothing to jewelry and accessories.
For a more authentic experience, head to the Piazza delle Erbe market, where you can browse through an array of fresh produce and local artisanal goods. If you're looking for unique souvenirs, explore the artisan workshops in the San Zeno neighborhood, where you can find handcrafted leather goods, ceramics, and jewelry.
You may also wish to visit the Centro Commerciale Adigeo, a modern shopping center where you can find all your favorite brands under one roof. Whatever your style, you'll be sure to find your fix in Verona.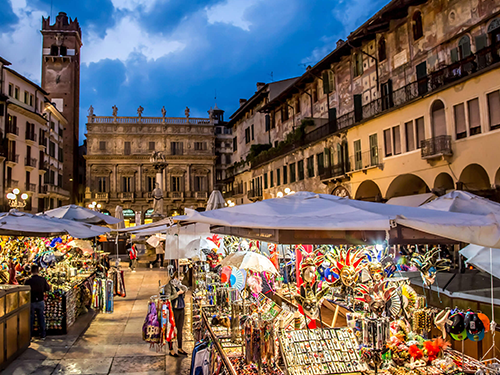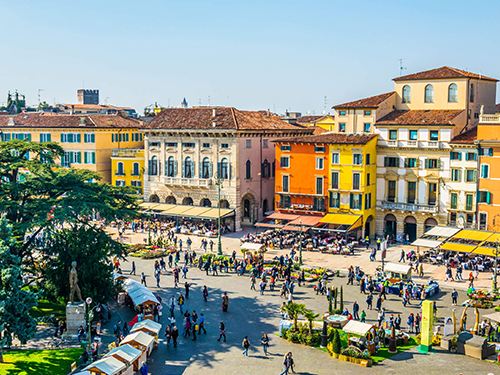 Getting around the city
Traveling around the city of Verona is a delightful experience that's full of surprises. Walking is one of the best ways to bask in the beauty of Verona's historic streets and charming piazzas.
Wander through the winding cobblestone alleys as you unearth hidden gems in the form of small boutiques, quaint cafes, and local markets.
For those wanting to pick up the pace a little, rent a bicycle or join a walking tour to cover more ground whilst soaking up the scenic views and fresh air.
The city also has an efficient and reliable public transport system, comprising of buses, trams, and trains, making it easy to navigate those longer journeys. However you decide to get around the city of love, it'll be sure to serve up wonder after wonder!
Verona and beyond
Verona is a brilliant base for exploring the rest of Italy. The city's convenient location, superb transport links and proximity to major tourist hotspots make it the perfect starting point for venturing beyond its borders.
One of the bests ways to explore Italy from Verona is by train, with frequent services to popular destinations like Venice, Milan, Florence, and Rome. Not only is this an efficient and affordable way to travel, but it provides the perfect opportunity to admire Italy's stunning scenery.
Verona Villafranca Airport (VRN) serves as a gateway to the Veneto region and beyond. Located just 12km from the city center, VRN offers a range of domestic and international flights to suit the needs of any traveler.
Want to explore more of Italy's dreamy destinations? Browse Icelandair flights to our other Italian cities: Rome and Milan.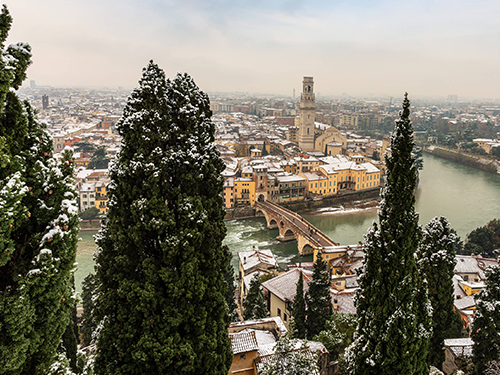 FAQs about travel to Verona
Helpful information for travelers to Verona
How long is the flight to Verona from the USA?
The flight time to Verona from the USA depends on which airport you fly from.
The flight from JFK to VRN is around 11-12 hours, though this does not account for any layovers which will add time on to your overall journey.
When you fly to Verona, Italy, with Icelandair, you can add a stopover in Iceland at no extra cost.
When is the best time to visit Verona?
Winter is a truly magical time of the year to visit Verona, especially if you're a skiing fan.
Experience the city of Verona and surrounding ski resorts in all their snow-covered glory, as they come to life with festive lights, decorations and Christmas markets.
Whenever you decide to book flights to Verona from the US, we recommend booking in advance to secure the best price.
How can I find cheap flight tickets to Verona?
Being flexible on your dates and which airport you fly from can help to find you last-minute, cheap flights to Verona, Italy.
Additionally, we also recommend checking our flight deals regularly and booking in advance to secure the best price on your flights to Verona.
Do I need a visa to visit Verona?
Passengers traveling to Verona on a US passport for business or pleasure do not need a visa to enter the country, as long as their stay does not exceed 90 days.
Travelers may, however, be asked to show proof of onward or return travel as well as sufficient funds to cover their vacation.
Make the most of your trip