12/01/2022 | 12:00 PM
Skiing in Iceland: Ski like there's snow tomorrow
Iceland doesn't have the skiing reputation of other parts of peak-blessed Europe like Switzerland, Austria or Norway, but the opportunities here are plentiful – especially for skiers and snowboarders looking for an off-piste adventure, and for visitors looking for extra adrenaline in the form of snowmobiling adventures.
Check out our list of where to go and what adventures to look for.
Best spots for skiing, snowboarding and more in Iceland
Traveling around Iceland is easy with our internal flights. From the domestic airport close to downtown Reykjavík, you can reach Ísafjörður in the Westfjords, Akureyri in North Iceland, and Egilsstaðir in East Iceland in under an hour.
Reykjavík Two resorts lie less than a half-hour drive from the capital and attract snow-loving city-dwellers: Bláfjöll is the larger option; Skálafell is also a popular choice for the best skiing in Iceland's capital.

Ísafjörður In the far northwest, close to the Westfjords' major town, lie ski areas Tungudalur and Seljalandsdalur, with ski lifts, cross-country trails and a fun Easter celebration. The region is also popular for backcountry skiing.
Sauðárkrókur North of town is the looming mountain Tindastóll, with a ski area suitable for all the family, plus awesome views of Skagafjörður.
Tröllaskagi The "Troll Peninsula" is a snow-lover's dream, with super slopes and three resorts in close proximity, by the towns of Siglufjörður, Ólafsfjörður and Dalvík. There are also snowmobile and snowcat tours, and bumper heli-skiing and ski-touring opportunities.
Akureyri The king of all the Icelandic resorts is Hlíðarfjall, with full facilities, a ski school, floodlit runs, and cross-country tracks.
Grenivík Take a snowcat tour up Kaldbakur (3,848 ft; 1,173 meters), the longest ski run in Iceland, then ski, snowboard, sled, walk, or take the snowcat back down. This remote peninsula (unofficially known as Huldulandið) is another favorite for heli-skiing and ski-touring.
Mývatn Cross-country skiing and snowshoe walks across frozen lakes and lava fields are a big winter lure in this prime "fire and ice" location.
Seyðisfjörður Just 10 minutes outside this perfectly picturesque town is Stafdalur, with one lift plus kids' lift, as well as cross-country skiing opportunities.
Eskifjörður In the "Alps of the East Fjords" sits Oddsskarð, a small resort high above the towns of Eskifjörður and Neskaupstaður, with good backcountry access. Visit in March for the Austurland Freeride Festival, an annual mountain-skiing and snowboarding event headquartered in Eskifjörður and using the Oddsskarð ski area as its base.
Hvannadalshnjúkur Iceland's loftiest peak (6,923 ft; 2,110 meters) offers springtime ski mountaineering opportunities for those with plenty of experience.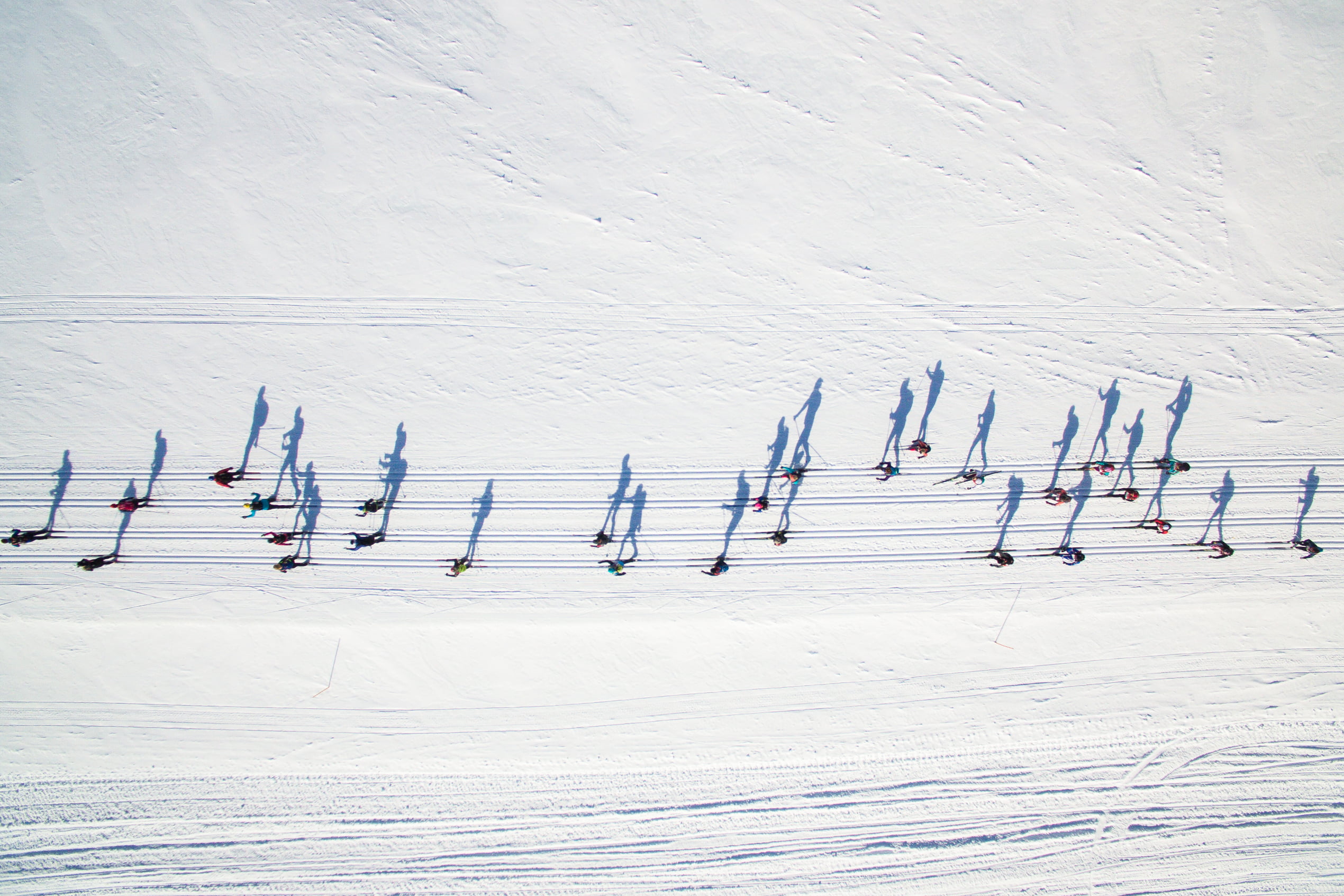 When to go skiing in Iceland
The typical Iceland ski season runs across the winter months from November through to April. Yet, you're likely to have better ski conditions and more open resorts from February when there's more daylight. Visit our guide on the best time to travel to Iceland for what to expect from the weather and what else is happening in each of Iceland's seasons.
Best spots for snowmobiling in Iceland
For a heart-thumping romp across the icy landscape, get yourself on a snowmobile. Besides the obvious thrill factor, this travel method offers two distinct advantages: It gives you access to terrain too tricky to explore by foot or car, and high speeds allow you to cover a lot of landscape in a short space of time.
Snowmobiling generally isn't offered at ski resorts – rather, Iceland's numerous glaciers are the most popular places for snowmobile touring, particularly Langjökull, Mýrdalsjökull and Vatnajökull.
As they're conducted on glaciers, snowmobiling tours in Iceland are possible year-round. You'll need to hold a valid international driver's license to operate a snowmobile, though passengers don't require one. Children aged around 8 and up can generally ride as passengers.
Tours will provide a helmet and windproof overalls, but be sure to dress in snug layers and good winter boots to stay toasty on your tour. The starting points for the tours are often in remote, glacier-edge locations, but pick-up is offered by tour operators from places that are easier to access in a regular car. Getting to the snowmobiling base in a large super-jeep is often half the adventure!
Read on for where to go snowmobiling in Iceland.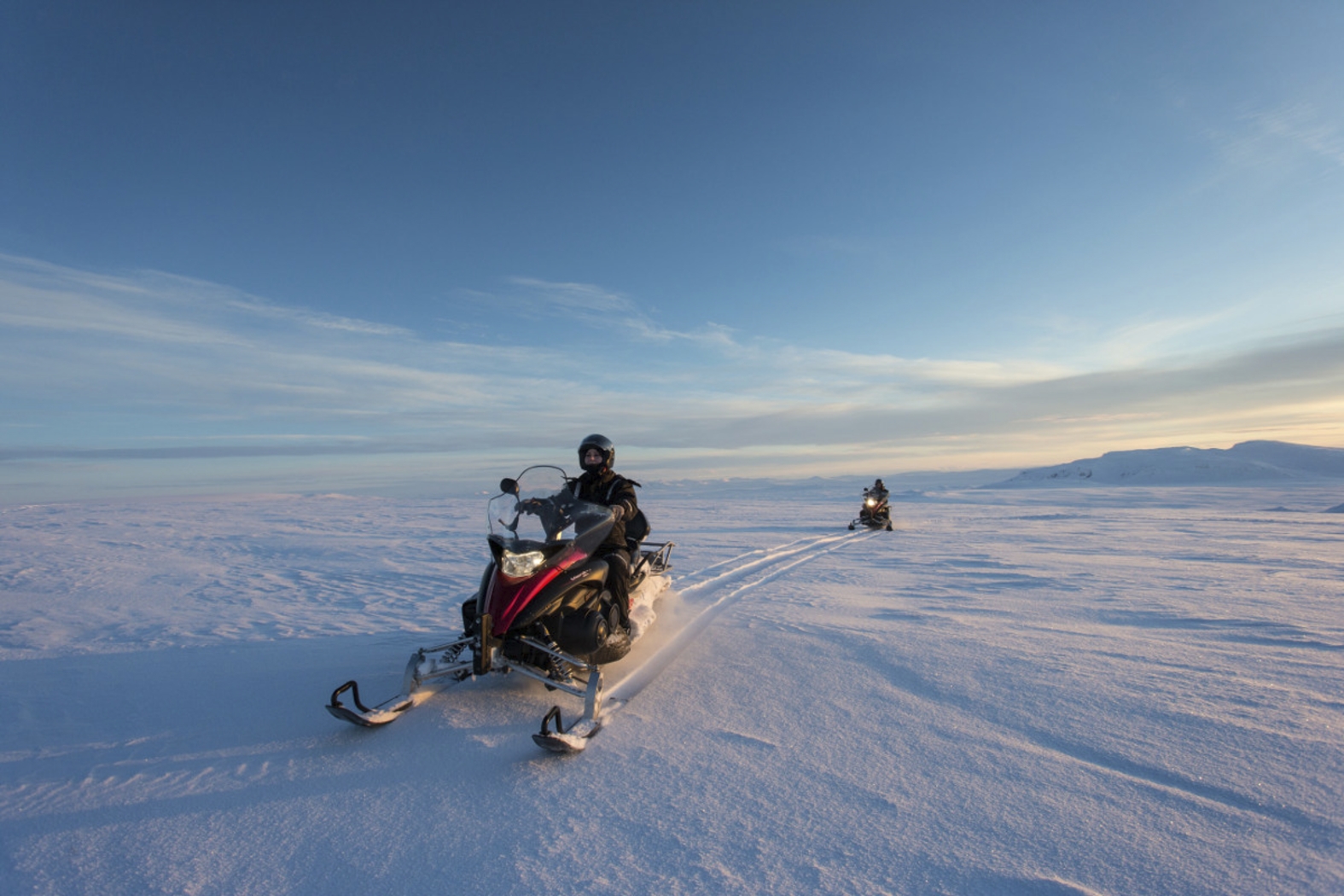 Langjökull This is a very popular option for snowmobiling, with tours available on both the west side and the east side of the glacier. Pick-up is usually done in Húsafell (for the western part of the glacier, including the Into the Glacier experience), or from Gullfoss waterfall on the Golden Circle. Our Golden Circle and Glacier Snowmobiling day tour from Reykjavík offers snowmobiling on the eastern part of Langjökull, accessed via the highland road known as the Kjölur route.
Mýrdalsjökull Another option that's possible on a day trip from Reykjavík is to the south coast Mýrdalsjökull glacier. Tours operate on the Sólheimajökull glacier outlet of Mýrdalsjökull, roughly halfway between Skógafoss and Vík.
Vatnajökull In the country's southeast, there are snowmobiling opportunities on outlet glaciers that flow from the magnificent ice cap Vatnajökull. Pick-up is from easy-to-reach locations on the Ring Road.
Mývatn Mývatn's namesake lake freezes in winter, creating snowmobiling opportunities.
Tröllaskagi Just like mountain skiing and heli-skiing opportunities in this region, you can also explore some excellent backcountry trails by snowmobile.

Top tips for planning your ski trip to Iceland
Traveling between North America and Europe with Icelandair, you have the opportunity to add a stopover in Iceland at no additional airfare. Make your stopover worthwhile by delving into what makes Iceland icy, with unique skiing, snowboarding and snowmobiling.

---
Banner photo by Elli Thor Magnusson. Photo of cross-country skiing from Ísafjörður Ski Week by Haukur Sigurðsson