What to see and do in Akureyri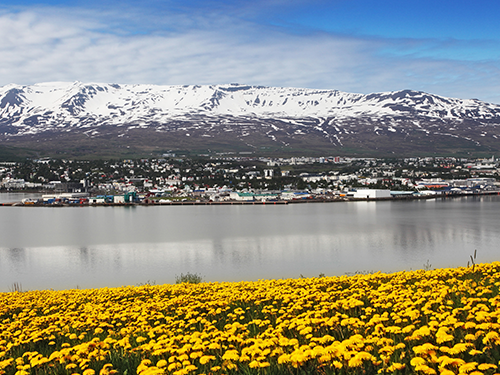 Best time to visit Akureyri
Akureyri, Iceland's second-largest urban area, is an amazing destination all year round.
A naturally beautiful town, Akureyri is situated on one of the longest fjords in the country and features a mild climate with summer temperatures of up to 77°F (25°C).
Summertime brings long hours of daylight and midnight sun, and activities such as boat trips, hiking, snorkeling and whale-watching tours.
Northern Lights season is from September through to early April, and they are more likely to appear in northern Iceland than anywhere else in the country. In the colder winter months, shorter days are balanced out with lots of lively festivals and events to wrap up warm for.
Getting around Akureyri
Akureyri is a walking city and you can reach most places in the center on foot, but a car is handy to explore the region further.
There is one taxi rank in the city (BSO), but there are also plenty of buses for local travel and excursions further afield. One of the big advantages of Akureyri's local buses is that they're absolutely free.
The bus stop for all the local city buses is located between the taxi station and the town square. For bus journeys to and from Akureyri (including buses to Akureyri airport), look for a stop near Hof – the cultural and conference center.
The cruise ship harbor is also a 5-minute walk away from the center of the town, so you can hop on a ferry with ease.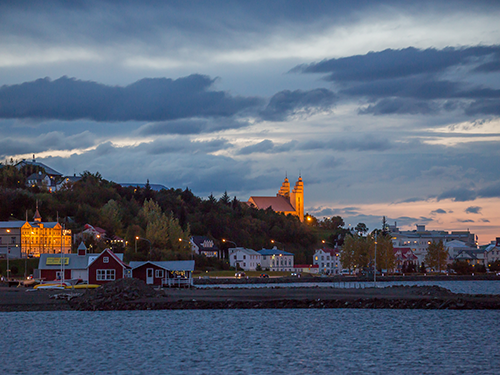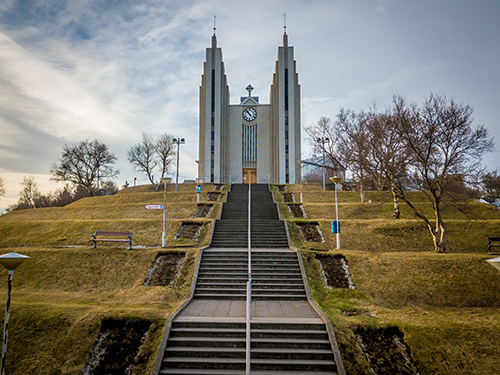 Things to do in Akureyri
Akureyri provides the perfect mix of culture, nature and adventure and it's a city that offers something for everyone.
You can spend time wandering the quaint stores, cafes, art galleries and museums in the city center. Then later the same day, head outdoors to enjoy fishing, hiking or even skiing. This compact city really offers it all.
You'll find locals relaxing in the local geothermal pools year-round or playing a round of golf under the midnight sun in the summer season.
During your evenings in Akureyri, we suggest you try one of the numerous excellent restaurants specializing in Icelandic lamb, seafood, and other local delicacies.
Explore the Northern region of Iceland
Akureyri serves as a gateway to North Iceland where you can discover many natural gems, from offshore islands to geothermal wonders.
Discover the Jökulsárgljúfur area of Vatnajökull National Park, home to spectacular Ásbyrgi canyon and Dettifoss waterfall, and the pretty village of Húsavík, a magnet for its whale-watching trips.
Also nearby is the Mývatn area, home to beautiful lakes and geological marvels. You can also take a short ferry or flight from Akureyri to Grímsey: a small, puffin-populated island in the Arctic Circle.
With the recently created Arctic Coast Way and Diamond Circle tourist routes, it's now easier than ever to access unique scenery and diverse attractions.