What to see and do in Iceland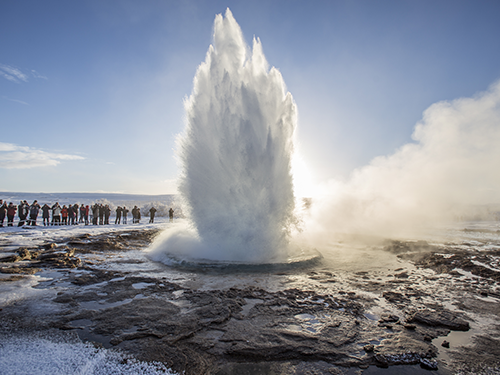 Introduction to Iceland
Iceland is a real bucket-list destination and it's not hard to see why.
Home to an array of cosy geothermal springs, picturesque landscapes, wondrous waterfalls, world-renowned glaciers and of course, the dancing lights of the aurora borealis – Iceland has it all.
One thing's for sure, there's certainly no shortage of things to do in Iceland.
The country's abundance of luxurious lagoons combined with infinite opportunities for exhilarating adventure means that your itinerary can be as tranquil or as thrilling as you like.
Planning a trip to Iceland? As well as offering domestic flights in Iceland, Icelandair has a plethora of tours and excursions that will help you unearth all those local Icelandic gems.
Must-see sights in Iceland
Iceland is bursting at the seams with world-renowned must-see sights. So much so that the list is almost endless!
Just some of the country's bucket-list items include the Golden Circle, Jökulsarlon Glacier Lagoon, the Northern Lights, Vatnajökull National Park, The Westfjords, and Snaefellsnes National Park.
And let's not forget Iceland's abundance of geothermal baths. From the Sky Lagoon and Blue Lagoon to Fontana Wellness and Vök Baths, Iceland is home to some of the most iconic hot springs in the world.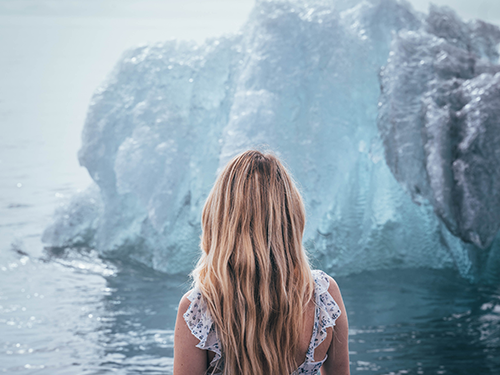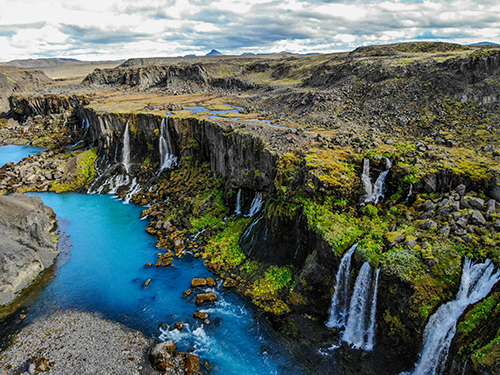 Travel to Iceland in summer or winter
One of the most popular times to book flights to Iceland is during the summer. Summer in Iceland runs from June - August and is characterised by glorious long days and warmer temperatures.
June and July present the perfect conditions to catch that midnight sun, go horse riding or explore Reykjavík on foot. Summer also brings with it an array of events, festivals and celebrations as Iceland showcases its love for arts, music, culture, and diversity.
Glistening icy landscapes and tremendous glaciers are synonymous with Iceland, and if you're hoping to catch sight of Iceland in all its snow-covered glory, then why not fly to Iceland during the winter?
Iceland's winter runs from December through February, and with temperatures reaching sub-zero and little daylight - there's no denying that it can be pretty harsh. But if you're visiting Iceland for the Northern Lights - this is the perfect time.
Explore Iceland in the shoulder seasons
If you're looking to beat those summer crowds but still crave those lighter, longer days, then perhaps a visit to Iceland during the spring may be more your thing.
Iceland's spring starts in March but it's not until around April that you'll start to see that snow melt away and make room for a greener Iceland.
Meanwhile, autumn in Iceland is the perfect time to visit the largest forest in Iceland and take in the colours of this gorgeous season.
April - September is prime whale watching season and the ideal time to discover the wondrous sights on the Golden Circle, too.
With the days still longer, but without the peak summer crowds or frosty winter weather, the shoulder seasons can be an ideal time to explore all that Iceland has to offer.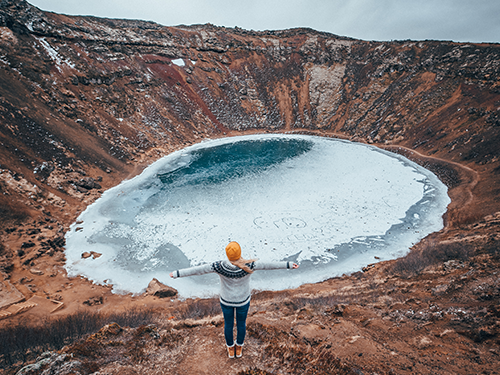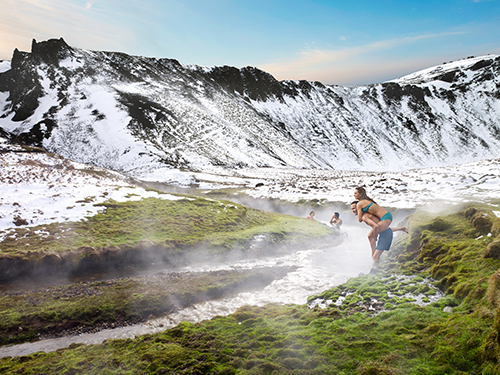 Discover the nature of Iceland
Just off the south coast of Iceland lie the stupendous Westman Islands (or Vestmannaeyjar). The archipelago's main island, Heimaey, is steeped in history and tradition. But a captivating backstory isn't all the island has to offer.
The plethora of scenic boat rides and bird-watching opportunities, as well as its invigorating kayaking, cycling, and hiking routes, make Vestmannaeyjar a big hit with nature and adventure lovers alike.
If it's dramatic, mystical scenery you're seeking then both Ísafjörður and Egilsstaðir bring it by the bucketload. Ísafjörður can be found in the Westfjords, whilst Egilsstaðir, also known as the capital of the East, is the gateway to the Eastfjords.
Expect some truly mesmerising scenes as you discover magnificent waterfalls, shimmering lakes, wild mountainous landscapes and the grandest of glaciers.
Explore Reykjavík and Akureyri
Iceland's bustling capital, Reykjavík is a city with a thriving arts and culture scene.
With its quirky museums, funky flea markets, engaging art galleries, vibrant nightlife and first-class eateries, there are plenty of opportunities to soak up all the city has to offer.
Known as the Capital of the North, the charming town of Akureyri is home to an array of natural wonders.
From geothermal springs to the Diamond Circle - this idyllic town offers the perfect blend of culture, nature and adventure and we're sure you'll love it just as much as we do.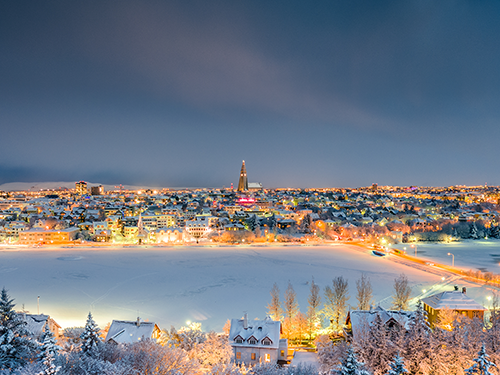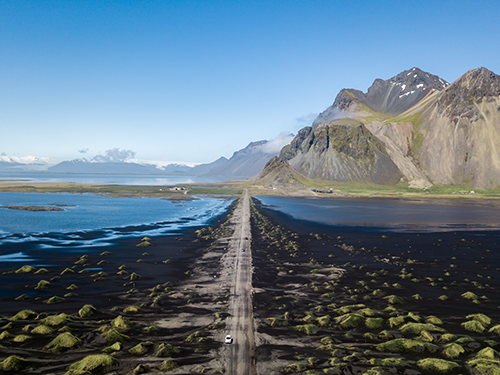 Getting around Iceland
Getting around Iceland is relatively easy. There is a network of buses that travel throughout the country, but no trains, and it has to be said that the most common and comfortable way to explore Iceland is either by plane or car.
Icelandair offers domestic flights to several breathtaking destinations within Iceland. Plus, most internal flights take under an hour, and that's not to mention their scenic landings and take-offs – what's not to love?
For those looking to go off the beaten track and unearth all the hidden gems – hiring your own car may be the most desirable option as you can plan your very own road trip.
As well as private car hire and public transport – you're welcome to explore the country by boat, bicycle, taxi or on foot. In fact, walking tours and hiking trails present the perfect opportunity to discover Iceland's allure.
Eating and drinking in Iceland
From Rúgbrauð (rye bread) to lakkrís (liquorice), and from kjötsúpa (meat soup) to plokkfiskur (fish stew), there's an abundance of traditional and tasty Icelandic dishes to get your teeth stuck into during your trip to Iceland.
Skyr is Iceland's answer to traditional yoghurt, though technically it's actually a cheese. The popular Icelandic ingredient is loved by locals and tourists alike and can be eaten at all times of day, in all kinds of ways.
Harðfiskur is another traditional Icelandic dish – it's made up of delicate pieces of wind-dried haddock or cod. You can spread a little butter on it or simply eat it as it comes. You'll find this delicacy in most supermarkets and gas stations but for the freshest Harðfiskur, try the fishmongers directly.
Meat lovers will adore pýlsur. Iceland puts its own stamp on the 'hot dog' with this creation. Made with lamb, beef and pork, topped with both fresh and deep-fried onion as well as ketchup, mustard and remoulade, you'll find many a pýlsur stand dotted around the capital.