Book your flight to Egilsstaðir with Icelandair from
Fly in the next three months: Flights to Egilsstaðir
Orlando (MCO)to
Egilsstaðir (EGS)
Jan 26 2024 - Jan 29 2024
Raleigh-Durham (RDU)to
Egilsstaðir (EGS)
Jan 15 2024 - Jan 18 2024
Raleigh-Durham (RDU)to
Egilsstaðir (EGS)
Dec 07 2023 - Dec 14 2023
Baltimore (BWI)to
Egilsstaðir (EGS)
Jan 02 2024 - Jan 07 2024
Detroit (DTW)to
Egilsstaðir (EGS)
Feb 21 2024 - Feb 24 2024
New York (JFK)to
Egilsstaðir (EGS)
Feb 07 2024 - Feb 16 2024
Seattle (SEA)to
Egilsstaðir (EGS)
Dec 10 2023 - Dec 14 2023
*Fares displayed have been collected within the last 72hrs and may no longer be available at the time of booking
Make the most of your trip
Plan ahead for your trip to Egilsstaðir with Icelandair
From

Orlando (MCO)

To

Egilsstaðir (EGS)
Round trip

/

Economy
Jun 15 2024 - Jun 24 2024

From

USD 1,100*

From

Boston (BOS)

To

Egilsstaðir (EGS)
Round trip

/

Economy
Jun 06 2024 - Jun 13 2024

From

USD 658*

From

Denver (DEN)

To

Egilsstaðir (EGS)
Round trip

/

Economy
May 03 2024 - May 15 2024

From

USD 867*

From

Washington, D.C. (IAD)

To

Egilsstaðir (EGS)
Round trip

/

Economy
Aug 03 2024 - Aug 10 2024

From

USD 792*

From

Minneapolis (MSP)

To

Egilsstaðir (EGS)
Round trip

/

Economy
Mar 31 2024 - Apr 05 2024

From

USD 714*

From

Denver (DEN)

To

Egilsstaðir (EGS)
Round trip

/

Economy
May 25 2024 - May 29 2024

From

USD 884*
*Fares displayed have been collected within the last 72hrs and may no longer be available at the time of booking
What to see and do in Egilsstaðir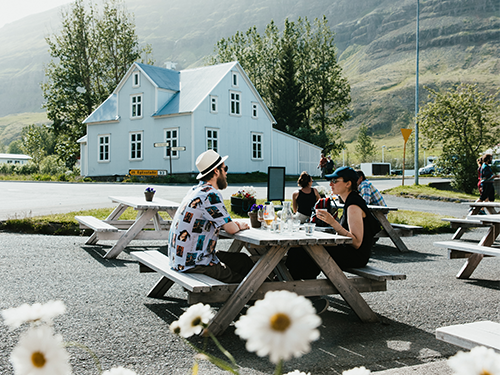 What to expect in Egilsstaðir
Egilsstaðir (or Egilsstadir) is the largest town in East Iceland. As soon as you step off your flight to Egilsstaðir, dramatic fjords, first-class hiking trails, and picturesque fishing villages are waiting for you.
Egilsstaðir is the capital of the eastern region of Iceland and is a gateway to the beautiful Eastfjords. Egilsstaðir's most unique characteristic is its location inland, beside the narrow Lagarfljót Lake, which begins its life as a glacial river in the Eastern Highlands.
A slower pace and easy access to the eastern region make Egilsstaðir the perfect destination for those looking for a relaxing holiday escape.
The town is primarily a connection between the northern, eastern, and southern parts of the country. From here you'll find that Mývatn in the north, Seyðisfjörður in the Eastfjords, and Djúpivogur in the south can all be reached within a couple of hours driving.
Best time to visit Egilsstaðir
The best time of the year to visit Egilsstaðir is arguably between April and September. During this time, you'll find there are more hours of daylight and the weather conditions are milder than at other times of year.
Like with several other destinations in Iceland, you'll find plenty of events and festivals take place over the summer months in the Eastfjords.
Fly to Egilsstaðir in winter to witness the incredible sights of East Iceland under the northern lights and a blanket of glistening snow. Just be mindful that traveling in the winter can come with challenges of its own, and it's worth taking a look over winter travel safety advice before you set out on your trip.
No matter what time of the year you book your flight to Egilsstaðir, we recommend booking your ticket in advance to secure the best deal.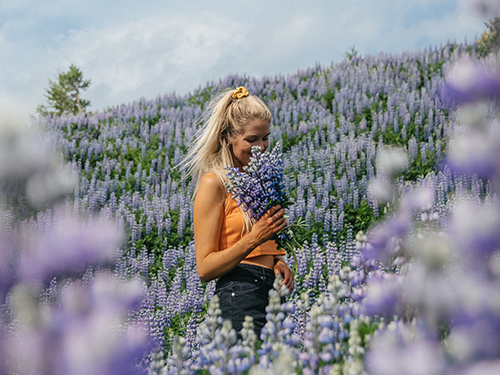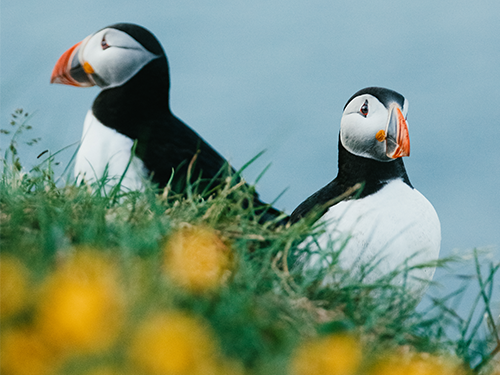 Things to do in and around Egilsstaðir
Egilsstaðir is the home of the largest forest in Iceland and the mysterious monster that inhabits the depths of the local Lagarfljót lake.
In the East of Iceland, you'll find a wonderfully photogenic sampling of Iceland's diverse nature. It's a beautiful area, bursting with natural spots to enjoy.
Hike to the magnificent Hengifoss waterfall (a hike which takes roughly 40-60 minutes), to take in the magnitude of one of the tallest waterfalls in Iceland. Then take a hike or drive through Hallormsstaðaskógur, the largest forest in Iceland.
After that you can visit the summer puffin colonies at Borgarfjörður Eystri, as well as taking a look at the blue-green waters and striking basalt columns of Stuðlagil canyon.
Take a trip to Vök Baths
With the opening of Vök Baths, not far outside Egilsstaðir, East Iceland has scored its very own spot on the list of the best geothermal bathing spots in Iceland.
The natural hot springs bubble away deep under Lake Urriðavatn and fill the two floating pools at Vök, set in the lake waters which are only reached by a short walkway from the main building.
Inside the award-winning building at Vök, you'll find a tea infusion bar. Visitors can make their own herbal tea blend using herbs that are grown at nearby Vallanes farm and brewed using the (certified drinkable) hot-spring water of the lake.
Take a visit and you'll see for yourself why this geothermal bathing spot is getting a lot of attention - both locally and internationally.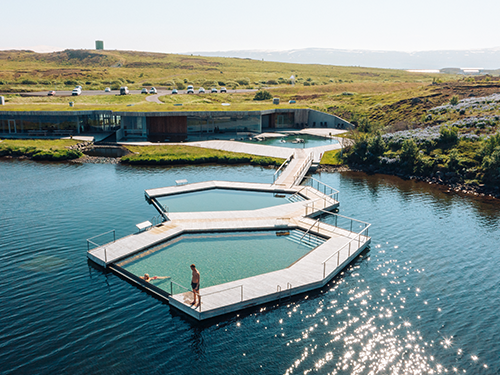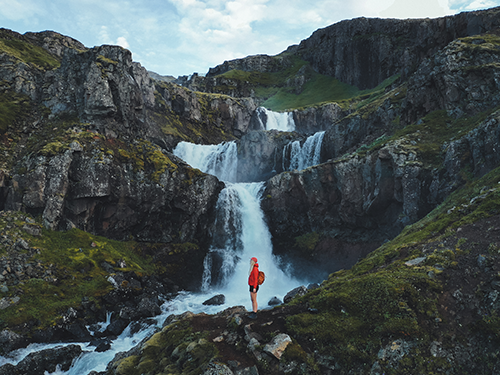 Hiking in Egilsstaðir
Just outside the town itself, the Selskógur forest is a popular place to go hiking. Visitors can enjoy views of the lush vegetation that flourishes in East Iceland and more ambitious travelers can even opt to camp at the Selskógur campsite.
Such hikes as the aforementioned hike to Hengifoss or the trip to Stuðlagil are also popular among outdoor enthusiasts.
And there are four hiking paths to choose from which depart from the car park at the bridge Eyvindarárbrú, with the longest hiking trail being 3.2km.
Maps of the area can be found at Egilsstaðastofa Visitor Center. We recommend all hikers submit their travel plans before setting off so that authorities know that there are hikers in the area should bad weather strike.
Transport in Egilsstaðir
Egilsstaðir is a pretty remote part of Iceland, with connecting roads being long and scenic. That's why many locals and visitors alike choose to fly from Reykjavík.
With the town's remote-ness in mind, renting a car in Egilsstaðir is a popular option. Having access to your own vehicle is also perfect for those looking to plan the ultimate Icelandic road trip.
Alternatively, you can utilize the town's bus service. You'll find services to transport you between popular hotspots within Egilsstaðir, as well as get you to other remote Icelandic villages.
Getting around the town on foot is also possible, as it is a fairly compact town, and cycling is a popular choice in the summer months. However if you want to explore further afield than Egilsstaðir, it's worth thinking about alternative modes of transport.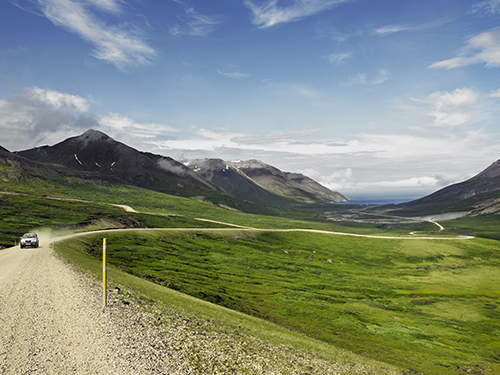 FAQs about travel to Egilsstaðir, Iceland
Helpful information for travelers visiting Egilsstaðir
When is the best time to fly to Egilsstaðir?
The best time to book flights to Egilsstaðir is during the summer (between June and August) as this is when the weather is relatively warmer and the days are longer too, giving you more chance to explore everything Egilsstaðir has to offer.
Whatever time of the year you decide to book tickets to Iceland, we recommend booking in advance to secure the best price on your flight from Reykjavík to Egilsstaðir.
How long is the average flight to Egilsstaðir, Iceland?
The flight time from the US to Egilsstaðir depends on which airport in the US you fly from.
However, the flight time from New York (JFK) to Keflavik Airport (KEF) is around 6 hours and the Reykjavík to Egilsstaðir flight is around 1 hour.
This adds up to a total flight time of roughly 7 hours, though it's important to remember that airport transfers will add time on to your overall journey.
When can I buy cheap flight tickets to Egilsstaðir (EGS)?
The cheapest months to fly to Egilsstaðir are typically January and February as this is the coldest time of the year in Iceland.
However, being flexible on your travel dates, checking for flight deals, and booking in advance can help you find the cheapest flight prices for your flight to Egilsstaðir.
How far is EGS Airport from the town center?
Egilsstaðir Airport is just 1.5 miles (2.5 km) from the town center. You can either catch a bus or hire a taxi or private car to take you the short distance.
Do I need to transfer between airports when flying from the US to Egilsstaðir?
How long is the flight to Egilsstaðir from Reykjavík?
Culture and travel notes on Egilsstaðir, East Iceland