Book your flight to Billund with Icelandair from
Fly in the next three months: Flights to Billund
Seattle (SEA)to
Billund (BLL)
Jan 23 2024 - Feb 06 2024
*Fares displayed have been collected within the last 72hrs and may no longer be available at the time of booking
Plan ahead for your trip to Billund with Icelandair
From

Chicago (ORD)

To

Billund (BLL)
Round trip

/

Economy
Oct 16 2024 - Oct 25 2024

From

USD 821*

From

Seattle (SEA)

To

Billund (BLL)
Round trip

/

Economy
May 16 2024 - May 31 2024

From

USD 1,414*

From

Seattle (SEA)

To

Billund (BLL)
Round trip

/

Economy
Jun 30 2024 - Jul 13 2024

From

USD 1,795*
*Fares displayed have been collected within the last 72hrs and may no longer be available at the time of booking
What to see and do in Billund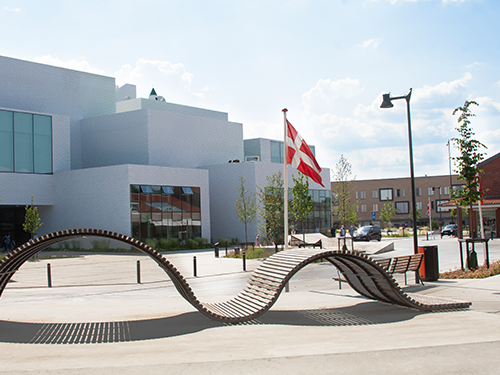 Visiting Billund
You may not have heard of this small town in regional Denmark, but Billund probably features in some of your fondest childhood memories. How so? This is where Lego was born, way back in 1932.
Icelandair offers regular cheap flights to Billund, Denmark from North America for family-focused fun and all the Lego your heart desires. Kids rule here! Fly to Billund and make your children (and your inner child) deliriously happy.
Before you take on a world dedicated to plastic toys and mini-figures, how about exploring the small but mighty Nordic capital? When you book a flight to Billund with Icelandair you have the opportunity to add a stopover in Iceland at no additional airfare.
What to eat in Billund
After your flight to Billund, you'll no doubt want to settle that rumbling stomach. And you're in luck because Billund's restaurants are used to catering to holidaying families.
There are plenty of kid-friendly buffets and simple fast-food - pizzas, hot chips, ice creams, you know the stuff.
We recommend that you try some classic Danish foods: flaky pastries (yum), super smørrebrød (traditional open sandwiches), hot dogs (the fast food of choice for locals) and lots of fishy treats.
And if you're after a different kind of dining experience, nearby cities with wider choices include Fredericia, Vejle and Esbjerg.
The best place in Denmark outside Copenhagen for dining on delectable Danish dishes (old-school and new Nordic) is Aarhus, about 60 miles from Billund.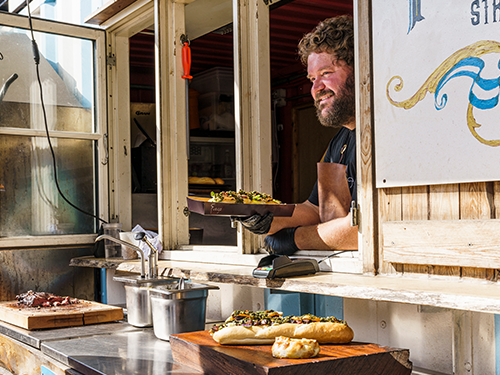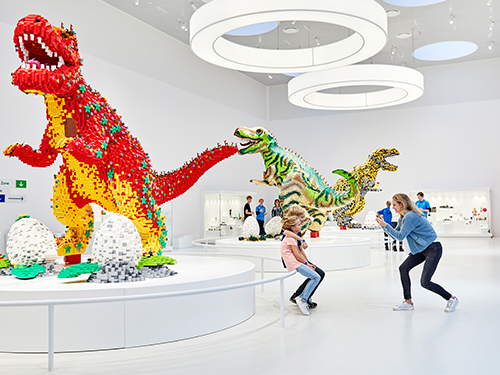 Things to do in Billund
When it comes to exploring the city, let us be your guide to Billund.
Billund is a company town, built from the success of one brand. You may think that sounds a little dull and business-like, but it's not - especially when the town's star brand is Lego. Experts have judged it the 'toy of the century,' and who are we to argue?
This town puts kids at the heart of everything. First up is the Legoland amusement park. Here you'll find attractions formed entirely from the famous plastic bricks – from an aquarium to a pirate ship to a haunted house. Then there's Lalandia, a big activity and entertainment center for families, housing a waterpark, play center, miniature golf, and lots more.
Billund's newest addition is their Lego House, and it sure is a beauty. The interactive cultural center is cleverly designed to resemble a stack of giant bricks and is full of colorful play areas and hands-on exhibits.
Where to visit near Billund
Billund sits in the center of Jutland (the peninsula attached to Germany) and is a gateway to regional Denmark.
Once you're tired of Lego (if that's even possible?), make the trip to Aarhus, Denmark's second city. It's home to great museums, cool design stores and Michelin-starred gastronomic delights.
Or, take a short drive from Billund and you can explore sweetly preserved Ribe, Denmark's oldest town, or the wild west coast, full of summer vacation settlements and seafood restaurants as well as cute offshore islands.
Remarkably, there are also three Unesco World Heritage sites nearby: Jelling is home to ancient Viking monuments, Christiansfeld celebrates unique religious architecture, and the Wadden Sea National Park is a tidal treasure full of birdlife, seals and oyster-harvesting opportunities.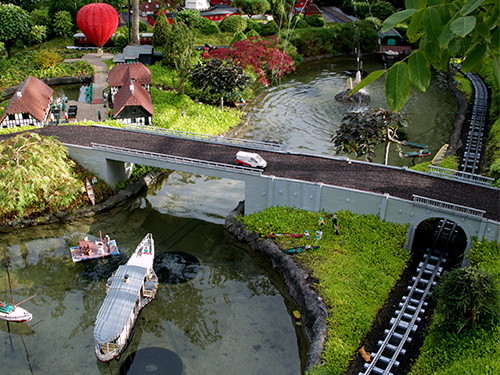 FAQs about travel to Billund
Helpful information for travelers to Billund
What US cities fly to Billund, Denmark?
Many major US cities fly into Billund thanks to Icelandair's broad connectivity to the country of Denmark through Iceland. Use the filters on the interactive pricing displays above to explore prices from your nearest airport.
How long are flights to Billund?
How to find cheap flights to Billund?
The cheapest time to fly to Billund tends to be during the winter as this is when the demand is slightly lower. That's not to say that you can't find a good deal all-year-round, or that you're guaranteed a cheap flight to Billund in the winter.
For the best price, we simply recommend booking your flights in advance and checking our deals regularly.
When to book your flight to Billund, Denmark?
Denmark's high season runs from May to August. The days are long, with the sun not setting until late evening, and the temperature is warm too. Seeing as a lot of Billund's' Legoland resort is outside, you want to explore this when it's dry and relatively cool.
Make the most of your trip