Book your flight to Ilulissat with Icelandair from
Fly in the next three months: Flights to Ilulissat
Please use the search function at the top of the page to find our best flight deals
*Fares displayed have been collected within the last 72hrs and may no longer be available at the time of booking
Plan ahead for your trip to Ilulissat with Icelandair
From

Seattle (SEA)

To

Ilulissat (JAV)
Round trip

/

Economy
Jul 06 2024 - Jul 13 2024

From

USD 2,230*

From

Chicago (ORD)

To

Ilulissat (JAV)
Round trip

/

Economy
Aug 19 2024 - Aug 30 2024

From

USD 1,559*
*Fares displayed have been collected within the last 72hrs and may no longer be available at the time of booking
What to see and do in Ilulissat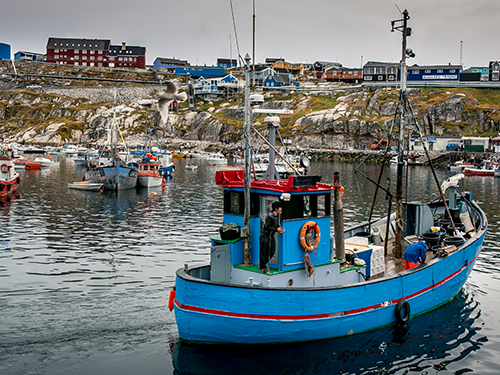 Best time to fly to Ilulissat, Greenland
The best time to visit Ilulissat, Greenland, is between December and March or June and September, depending on what you'd like to see and do.
The summer months are popular for whale watching, with seals frequenting the waters of Disko Bay. It's also a prime time to visit in terms of the long summer days and calmer weather.
Though it can be colder and darker during the winter months than the summer, Greenland does have some amazing sights and activities that are only enhanced by the snow, such as skiing, snowshoeing, and dog sledding.
Icelandair offers regular cheap flights to Ilulissat, so just let us know when you're ready for your Greenlandic adventure and we'll take you there.
Day trips in Ilulissat
Excursions help you explore the history and nature of the area from different vantage points.
From Ilulissat, several tourist agencies organize tours to local glaciers, wilderness camps, and outlying villages.
Consider a visit to Eqip Sermia glacier, where you can spend a couple of days in a comfortable hut and get up close to a calving glacier.
Or you might decide to immerse yourself in authentic Greenlandic life with a visit to the small settlement of Oqaatsut (Rodebay), or one of the oldest settlements in Greenland, Ilimanaq.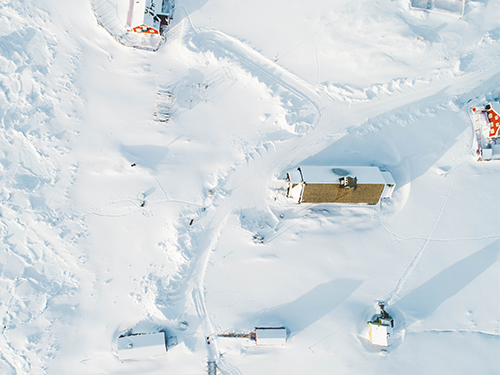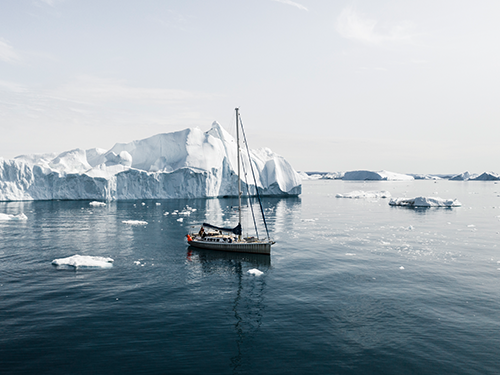 Things to do in Ilulissat
Ilulissat (known as Jakobshavn in Danish) has become one of Greenland's biggest tourist destinations, with its awe-inspiring scenery accompanied by a dramatic soundtrack of glaciers breaking off into the sea.
Ilulissat sits 217 miles (350km) north of the Arctic Circle, at the edge of Sermeq Kujalleq glacier, known to be the Arctic's most productive.
Visitors to this beautiful town and its surrounding wilderness will be dazzled by the ice fjord oasis known as Disko Bay, which is filled with icebergs calved from the Sermeq Kujalleq glacier.
After your flight to Ilulissat, you can take a scenic boat or kayaking trip that will take you out among the icebergs and help you appreciate this natural wonder from a different perspective.
Activities in Ilulissat
Around 5,000 people live in Ilulissat today, and the town is well set up for travelers who are drawn here to be wowed by the ice.
There are quality hotels with superb views, plus some great places to sample Greenlandic cuisine.
Alongside the locals, there are at least 3,500 sled dogs. For this reason, Ilulissat is also known as the 'Sled Dog Town'. Dogsled trips are highly popular among visitors, who get to experience another element of local life.
Dogsledding is still used by the locals as a mode of transportation as well as recreation. If you have time, you should definitely give it a go!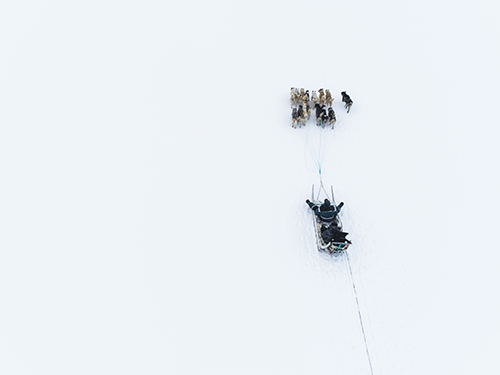 FAQs about travel to Ilulissat
Helpful information for travelers to Ilulissat
Do I have to transfer airports in Iceland when flying from the US to Ilulissat?
Which US cities can I catch a flight to Ilulissat from?
How long are flights to Ilulissat, Greenland?
How do you find cheap flights to Ilulissat?
Make the most of your trip