Book your flight to Innsbruck with Icelandair
What to see and do in Innsbruck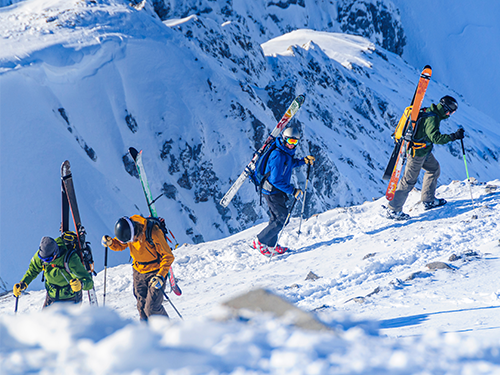 Introduction to Innsbruck
Innsbruck is storybook Austria: a photogenic riverside city of pastel-colored buildings and cobbled streets, rich in history and charm.
Heritage is one of the highlights, but for most visitors, it's likely overshadowed by the Alpine location and all it inspires.
Innsbruck sits pretty in a valley surrounded by soaring, snow-capped mountains. This is a renowned hub for winter alpine activities and a magnet for skiers and snowboarders. The slopes are so stellar, the Winter Olympics have been held here twice, in 1964 and 1976.
Visit for peak panoramas in all directions, exhilarating days on the slopes, unique après-ski fun, hearty Austrian fare, and to explore a city full of surprises.
Icelandair offers flights to Innsbruck from 12 airports across the US, including New York (JFK) and Chicago (ORD).
Historic Innsbruck
The mountains may be calling, but Innbruck's historic charm is also worth some time. Get your bearings by climbing the City Tower, where 133 steps lead to a viewing platform overlooking the city's medieval streets and stunning mountain views.
Innsbruck's most distinctive landmark is the glittering 'Golden Roof' (in German, Goldenes Dachl). It was completed in 1500, built to mark the wedding of Holy Roman Emperor Maximilian I. The name reflects the roof decoration of 2657 gilded copper tiles.
The grand Ambras Schloss is another prime attraction, a 16th-century hillside castle overflowing with art, armory and assorted curiosities.
Complete the city's royal set by admiring the impressive Hofburg, or Imperial Palace, which houses themed museums showcasing the Habsburg empire. The ornate Hofkirche church and royal gardens are also pretty as a picture.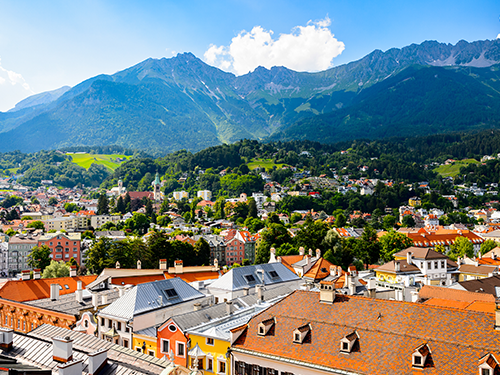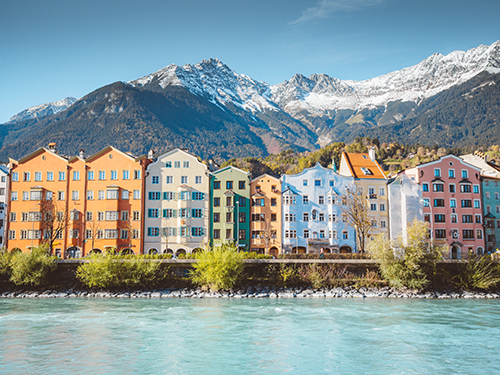 Visit the Nordkette mountain range
Standing guard over Innsbruck, the Nordkette mountain range is an Alpine playground offering world-class skiing, hiking and more. The Nordkette is part of Austria's largest nature park, the Karwendel Nature Park.
Getting up is easy: a 20-minute ride takes you from the heart of Innsbruck up to the southern rim of the Karwendel Range. Stage 1 is a short ride to the Hungerburg station, riding the space-age funicular designed by star architect Zaha Hadid.
Change at Hungerburg for the cable car to Seegrube, 1905 meters above sea level. But don't stop there. The next cable car continues to the top of Hafelekar: at 2256 meters, these are some killer vistas!
Stage 1 has a few stops along the climb, including the Alpine Zoo – a favorite for families, home to bears, wolves, eagles and wildcats. There are restaurants, bars, and sun terraces on higher levels.
Skiing in and around Innsbruck
Innsbruck is surrounded by world-class skiing, with 13 ski resorts ranging in size, terrain and altitude. All have excellent lifts, pistes and facilities. The slopes are generally well-covered in snow from November until the middle of April.
The number of resorts promises plenty of variety during your winter vacation, and collectively offer everything from relaxing snowy adventures to crazy freeriding fun.
There's skiing and snowboarding for all levels on the Nordkette or on Olympic tracks on the Patscherkofel and in the Axamer Lizum, family skiing fun on the Muttereralm or the Rangger Köpfl in Oberperfuss, or the highest winter and piste fun in the Kühtai ski resort.
Fabulous fun on the slopes also awaits you at the Stubai Glacier, the largest glacier ski resort in Austria with 65km of varied slopes.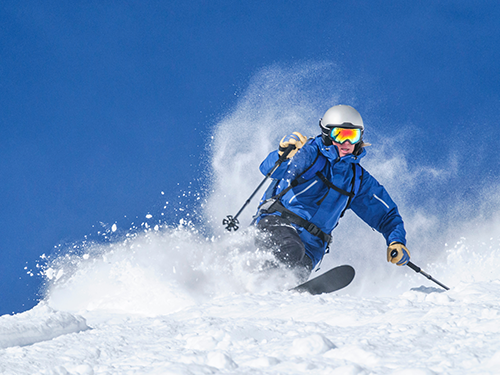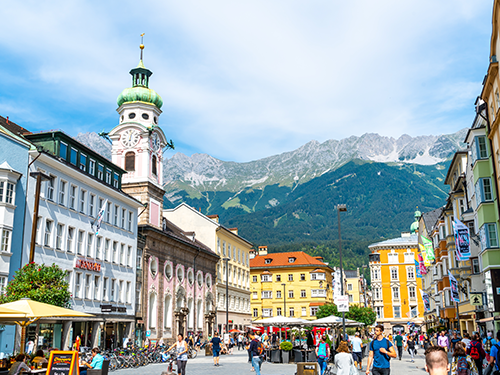 Dining in Innsbruck
It's no surprise that Tyrol's traditional cuisine is hearty fare designed to fuel Alpine activities.
All that mountain air, green pastures, and pure spring water contribute to great produce, including flavorsome meats and cheeses. Look out for 'Marend', the local version of an antipasti platter that includes cured meats and sausages, mountain cheese and bread.
Foodies will enjoy authentic farm-to-plate experiences at rustic mountain huts, in traditional country inns, and at award-winning fine-dining restaurants. Hungry to delve deeper? Join a food tour in Innsbruck – there's even a tour dedicated to sweet treats!
Bacon or cheese dumplings are a Tyrol staple, best enjoyed in soup or with sauerkraut and salad. No trip to Tyrol is complete without a 'kiachl', a fried dough pastry traditionally served with sauerkraut, or sweet with jam and powdered sugar.
Shopping in Innsbruck
Shopping in Innsbruck offers a great blend of urban and Alpine, ranging from designer boutiques to farmers' markets.
Souvenirs span from culinary treats (cured meats, for example, honey, or schnapps) to ski gear and outdoor attire. Local craftwork is highly prized, including leatherware and traditional felt slippers.
Innsbruck's old town offers a great selection of souvenirs, mementos, and local delicacies. Stroll around Maria-Theresien-Strasse, the main pedestrian artery, and nearby Herzog-Friedrich-Strasse and Museumstrasse. You might be lured into appealing central malls such as Rauthausgalerien or Kaufhaus Tyrol.
Did you know that Swarovski hails from Wattens, just 20km east of Innsbruck? The Swarovski Kristallwelten (Crystal Worlds) was built in tribute to the company; here, art installations meet whimsical gardens and a next-level shopping experience.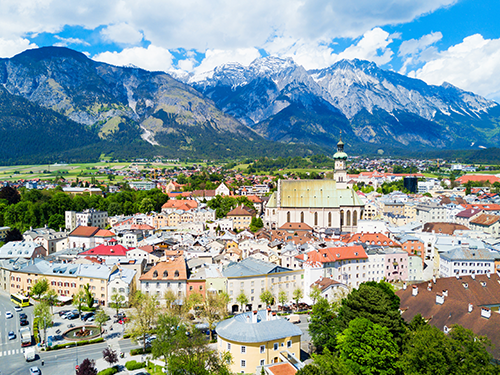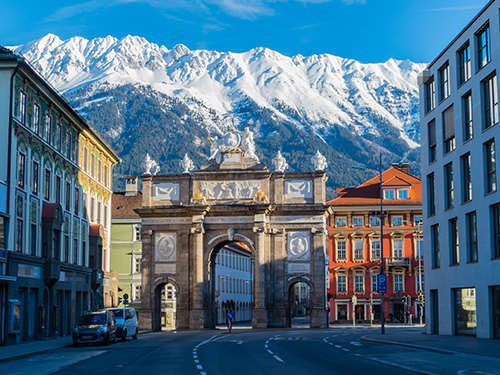 Travel around Innsbruck
Traveling around the city of Innsbruck is a delightful experience that's full of surprises. Walking is one of the best ways to admire the beauty of Innsbruck's historic streets. Many of the top attractions are in the old town or within walking distance of one another.
Innsbruck's public transport is excellent. Bus and tram routes are operated by the Innsbrucker Verkehrsbetriebe, or the IVB for short, and offer great connections around the clock.
If you want to enjoy Innsbruck's nightlife, you can take advantage of the good connections offered by the "Nightliner" night buses.
There is also a dense network of regional buses, trams, and trains that connects Innsbruck with the nearby villages and surrounding regions.
Innsbruck and beyond
Innsbruck makes a wonderful base for exploring and you can head in a number of directions by car or train: east to Austrian gems like Salzburg or Vienna, or across nearby borders to reach Germany, Switzerland, or Italy.
Train connections are excellent. The WESTbahn, for example, is a daily service that connects Innsbruck with Munich, Salzburg, and Vienna, traveling on double-deck carriages with great views en route.
If scenic train rides are your thing, the Arlberg line connects Innsbruck with Zurich through the beautiful Arlberg Pass.
Innsbruck Airport (INN), also known locally as Kranebitten Airport, is the largest international airport in Tyrol, Western Austria. It's approximately 4km from the center of Innsbruck. All Icelandair flights to Innsbruck land here.
Looking for other snowy slopes? Browse Icelandair flights to other winter hotspots including Salzburg, Zurich, and Verona.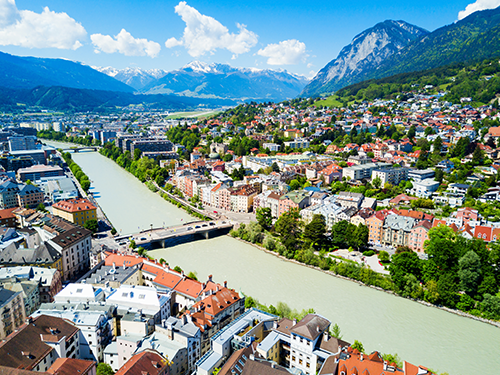 FAQs about travel to Innsbruck
Helpful information for travelers flying to Innsbruck
How long is the flight to Innsbruck from the US?
The flight time from the USA to Innsbruck depends on which airport in the US you fly from, as well as any layovers you have planned.
The flight time from New York (JFK) to Innsbruck (INN) is around 10 hours non-stop.
When you book flights to Innsbruck with Icelandair you will change at Keflavík Airport before flying direct to Innsbruck.
How can I find cheap flights to Innsbruck?
Being flexible about when you fly and which airport in the US you fly from can help you find flights to Innsbruck at a lower price.
We also recommend checking our flight deals regularly and booking in advance to secure the best fare on your flights to Innsbruck from the USA.
When is the best time to visit Innsbruck?
One of the best times to book flights to Innsbruck is during the winter months, especially if you love skiing. The city's breathtaking Alpine landscapes transform into a winter wonderland, offering world-class winter sports opportunities.
However, Innsbruck's charm extends year-round, with mild summers ideal for hiking, sightseeing, and exploring the city's rich history and culture.
Which US airport can I fly to Innsbruck from?