What to see and do in Ísafjörður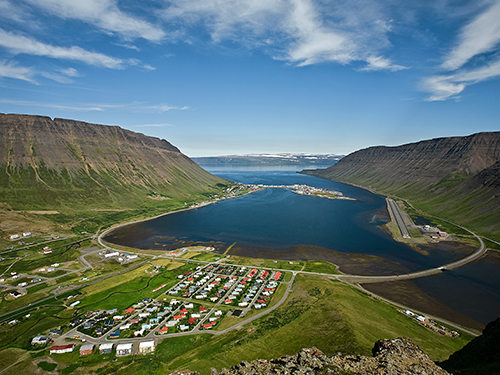 What to expect in Ísafjörður
Ísafjörður (or Isafjordur) is the largest town on the Westfjords peninsula in the north west region of Iceland.
With just over 7,300 people living in the Westfjords, almost 2,700 of which live in Ísafjörður, this area is known for its untouched nature. Locals share their space with arctic foxes, incredible birdlife, soaring mountains and roaring waterfalls.
Less than 10% of international travelers to Iceland make it to this unspoiled corner of the country but there is something truly magical about flying to Ísafjörður. The Reykjavík to Westfjords flight itself is scenic and dramatic, with Ísafjörður airport located at the end of a magnificent fjord.
Once there, you can hike the trails, soak in the hot pools, sample fresh local flavors, and meet the lucky locals who get to call this unique region home.
Getting around Ísafjörður
It is undoubtedly easiest to get around Ísafjörður if you have the use of a car once you are there. But it is far quicker, easier and arguably more comfortable to reach the town via plane, as Reykjavík Ísafjörður flights take only 40 minutes.
If you're planning a road trip around Iceland, you may decide to rent a car. If driving to the Westfjords, you can reach Ísafjörður from Reykjvaík by car by taking the ring road (þjóðvegur 1) until Staður, before turning off on to road number 68. The new driving route, the Westfjords Way, was designed to make it even easier for travelers to explore this wonderful area.
That said, Ísafjörður is home to some truly breathtaking scenery that's best explored on foot, on one of the small town's many hiking trails.
You'll also find that there are ample bus routes that can help you both to get around Ísafjörður as well as connect you to neighboring towns such as Bolungarvík, Þingeyri and Suðureyri.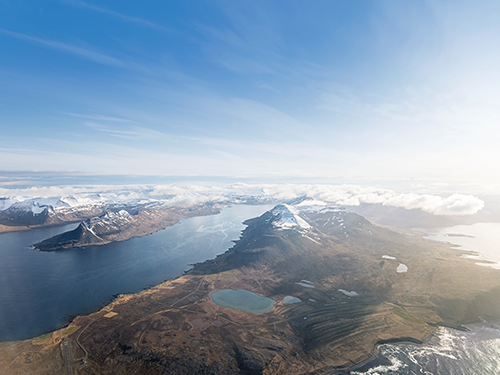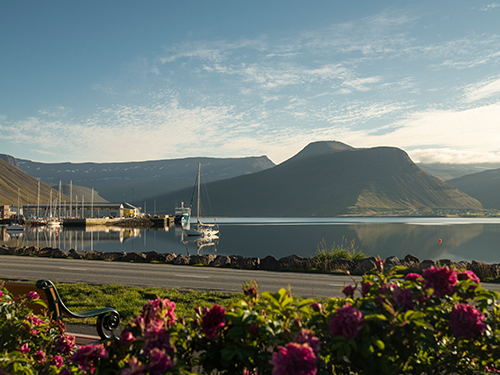 Best time to visit Ísafjörður
The best time of the year to visit Ísafjörður is during Iceland's summer (between June and August) or during its shoulder season (either in September or May).
During this time, you will experience more hours of daylight and less adverse weather conditions than in the winter. There are also a handful of music festivals and events that bring the village to life in the summer months, making it a great time to experience the rich culture of the area.
That said, traveling to Ísafjörður in winter has its own appeal. Travelers have a higher chance of seeing the Northern Lights when visiting Iceland in winter, due to the longer darker nights, and Ísafjörður itself is a snowy haven in the winter.
The remote nature of the Westfjords comes with its own set of challenges if poor weather sets in, and we always advise travelers to check the weather and road conditions before setting off on any journey in Iceland.
Events in Ísafjörður
While there are events happening year-round, the Easter weekend is undoubtedly one of the most popular times for locals to visit Ísafjörður.
The small town comes alive with local music from the much-loved music festival Aldrei fór ég suður (which translates as 'I never went south' and was established in 2004), and skiing for the annual Ski Week ('Skíðavikan Ísafirði'). Iceland is well known for its skiing culture and the Ski Week is celebrated as the oldest town festival in Iceland, having been running since 1935.
Most of the neighboring villages also host their own unique events and festivals.
In Bolungarvík, there is an annual 'Mýrarboltinn' or 'swamp soccer' festival. Teams sign up to play soccer in an extremely muddy field, meanwhile there is live music, partying and swimming on offer for all.
Then in nearby Flateyri, 'Sæunnarsund' takes place annually as a celebration of the resilience of a cow who escaped slaughter by swimming across Önundarfjörður fjord. Resilience is truly in the spirit of Icelanders, and so this swim is a true celebration of Icelandic culture.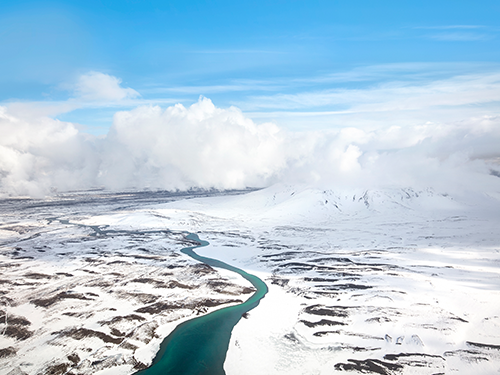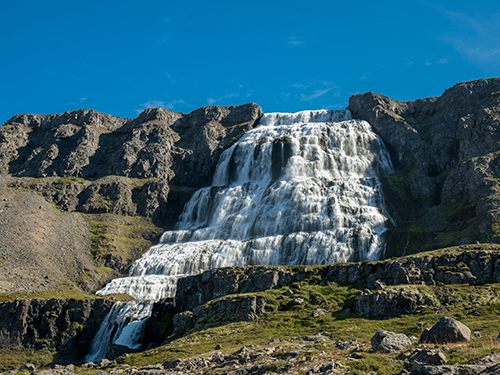 The best spots in Ísafjörður
Ísafjörður is the gateway to some of the most rural and remote areas of Iceland. The surrounding fjords are where you'll experience wild landscapes in a truly unique way. From giant waterfalls to empty valleys, hot springs, wilderness trails and pristine nature reserves – Ísafjörður is a nature lover's paradise.
Travelers often use Ísafjörður as their base for travel around the Westfjords region. By booking accommodation in Ísafjörður, travelers can take day trips to the most famous sights in the region.
From Dynjandi waterfall to Rauðisandur beach, there is plenty to be explored by land. However, the most adventurous travelers may wish to take a boat ride over to Vigur Island, where they'll have the highest chances of seeing puffins in the Westfjords.
Meanwhile, the Hornstrandir nature reserve, best accessed by boat from Ísafjörður, has the highest density of arctic foxes in the world. For those who prefer to keep two feet on land, you can meet these delightful creatures at the Arctic Fox Centre in Sudavík.
Top-rated places to visit
Comprising a relaxed blend of beautiful old houses, waterfront paths, and plenty of access to the beguiling nature of surrounding mountains and fjords – Ísafjörður does not disappoint.
Popular cultural sights include Hversdagssafn, or the Museum of Everyday Life, home to a collection of objects from the everyday life of locals and immigrants in Ísafjörður. The old hospital in the town is now home to Ísafjörður Culture House, today filled with books, art and photography.
The nearby village of Flateyri hosts Iceland's oldest bookshop, a fourth generation family home since 1914, where you buy books by weight. Step into history in the next door room, where there is the chance to get insight into everyday life in Iceland.
Culture enthusiasts will also be interested in visiting the Westfjords Heritage Museum (or Byggðasafn Vestfjarða) in Ísafjörður. This iconic black house houses artifacts from the rich maritime history of the area, and makes a great spot for coffee and cake.
Other museums in the Westfjords frequented by travelers and locals alike include: the Nonsense Museum in Ísafjörður, the Museum of Sorcery and Witchcraft in Hólavík, and Hnjótur Museum in Örlygshöfn, Patreksfjörður.