Book your flight to Dublin with Icelandair from
Fly in the next three months: Flights to Dublin
Seattle (SEA)to
Dublin (DUB)
Jan 16 2024 - Jan 27 2024
Seattle (SEA)to
Dublin (DUB)
Feb 27 2024 - Mar 05 2024
Seattle (SEA)to
Dublin (DUB)
Jan 15 2024 - Jan 21 2024
Denver (DEN)to
Dublin (DUB)
Dec 05 2023 - Dec 12 2023
Denver (DEN)to
Dublin (DUB)
Dec 06 2023 - Dec 11 2023
Denver (DEN)to
Dublin (DUB)
Dec 08 2023 - Dec 15 2023
Chicago (ORD)to
Dublin (DUB)
Jan 12 2024 - Jan 21 2024
Chicago (ORD)to
Dublin (DUB)
Feb 07 2024 - Feb 12 2024
Chicago (ORD)to
Dublin (DUB)
Feb 09 2024 - Feb 18 2024
Boston (BOS)to
Dublin (DUB)
Jan 09 2024 - Jan 23 2024
Boston (BOS)to
Dublin (DUB)
Jan 23 2024 - Jan 30 2024
Boston (BOS)to
Dublin (DUB)
Jan 22 2024 - Jan 31 2024
*Fares displayed have been collected within the last 72hrs and may no longer be available at the time of booking
Plan ahead for your trip to Dublin with Icelandair
From

Seattle (SEA)

To

Dublin (DUB)
Round trip

/

Economy
Mar 05 2024 - Mar 12 2024

From

USD 415*

From

Seattle (SEA)

To

Dublin (DUB)
Round trip

/

Economy
Mar 03 2024 - Mar 12 2024

From

USD 415*

From

Seattle (SEA)

To

Dublin (DUB)
Round trip

/

Economy
Feb 27 2024 - Mar 05 2024

From

USD 415*

From

Denver (DEN)

To

Dublin (DUB)
Round trip

/

Economy
Oct 01 2024 - Oct 15 2024

From

USD 474*

From

Denver (DEN)

To

Dublin (DUB)
Round trip

/

Economy
Apr 02 2024 - Apr 11 2024

From

USD 474*

From

Denver (DEN)

To

Dublin (DUB)
Round trip

/

Economy
Oct 01 2024 - Oct 08 2024

From

USD 489*

From

Chicago (ORD)

To

Dublin (DUB)
Round trip

/

Economy
Mar 15 2024 - Mar 19 2024

From

USD 415*

From

Chicago (ORD)

To

Dublin (DUB)
Round trip

/

Economy
Mar 12 2024 - Mar 27 2024

From

USD 419*

From

Chicago (ORD)

To

Dublin (DUB)
Round trip

/

Economy
Apr 08 2024 - Apr 18 2024

From

USD 419*
*Fares displayed have been collected within the last 72hrs and may no longer be available at the time of booking
What to see and do in Dublin, Ireland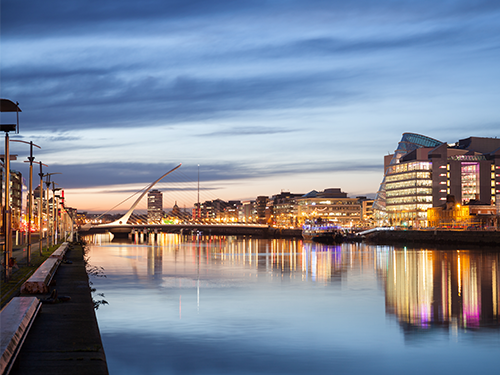 Things to do in Dublin
Dublin locals are as friendly and funny as their reputation suggests, and their pubs, music, and story-telling traditions are unmatched. Indeed, all Irish history and heart is on show in Dublin, from grand cathedrals to storied prisons and from gilt-edged gems to Guinness brewing magic.
Make a beeline for Trinity College to explore the grounds of this prestigious, 425-year-old university. The famous Book of Kells lives here. This religious manuscript (dating from around 800 AD) and its illustrations are otherworldly.
Bookworms can trace the steps of literary heroes like Joyce, Beckett, and Wilde. Art lovers can seek out museums and galleries, and everyone can enjoy city strolls to appreciate the green squares, cobbled streets, and Georgian architectural elegance.
From Dublin, perfect excursions include a foray to the fishing village of Howth; it's just 9 miles up the road and perfect for seafood lunches and scenic walks. There's also Glendalough, 33 miles south - home to monastic ruins in a supremely lovely setting.
Eating and drinking in Dublin
Care to investigate lyrically named traditional dishes such as boxty, colcannon and champ? You'll meet potatoes in various guises, but you'll also find stylish places offering farm-to-table experiences with high-quality meats and seafood.
Don't miss soda bread or sampling famous Irish cheeses. Come dinnertime there are plenty of cheery, tourist-leaning offerings in Temple Bar and some smart dining around Merrion Square, in the alleys off Grafton Street, and in Southside's Ranelagh.
Needless to say, you're almost obliged to dedicate some time to Dublin's celebrated pub culture. The city is home to more than 1000 drinking dens where you can see local life in all its glory.
Many Irish pubs serve food to accompany the free-flowing Guinness and Irish whiskey. Plus - enjoy timeless decor, friendly locals, tall tales, and invariably some live music too. Sláinte! (Cheers!)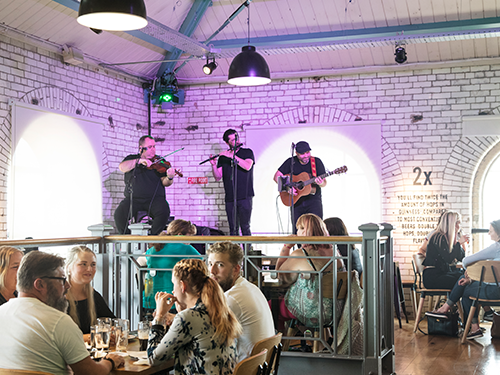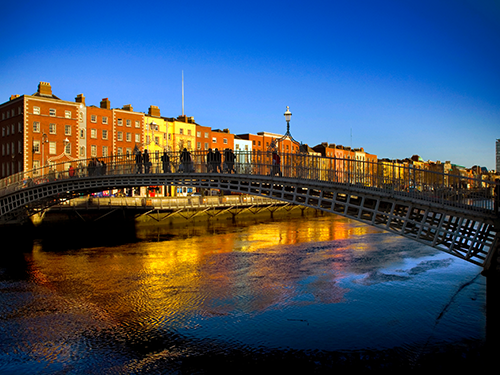 Best time to fly to Dublin
Many tourists prefer to visit Dublin in the warmer summer months of June to August. You'll be able to make the most of city sightseeing and get a real sense of the culture with the numerous festivals and events that fill the streets.
While there are definite benefits of flying into Dublin at this time, if you're looking for lower hotel rates and fewer crowds, then planning your trip outside of peak season is advised.
Winters in Dublin can be particularly harsh and chilly, so if you're planning on visiting from November to February, don't forget to pack a warm coat and plenty of layers.
However, if you want to enjoy all the city has to offer while experiencing a climate a little less Baltic, then booking airline tickets to Dublin in spring or fall is advised. Temperatures are relatively mild, but there are typically fewer tourists – with the exception of St Patrick's Day in March.
Traveling around Dublin – and beyond
Dublin is a fairly compact capital city, which means getting around the center on foot or by bike is a viable option.
However, Dublin's public transport system is extensive, consisting of the Luas (tram), DART (Dublin Area Rapid Transit), trains and buses. Buses are the most convenient mode of transport as they'll often be able to drop you right outside attractions.
You can also travel by taxi, but as in most places, they're the most expensive way to get around.
If you're hoping to explore more of the Emerald Isle, then hiring a car is a great way to see the Irish countryside. Outside the city center is a super-photogenic assortment of rugged coastlines, lush fields, rolling hills, and moody castles and abbeys.
Among the natural beauty of Ireland are sweet little villages where life moves slowly and there's always time for a friendly chat. Why not take a road trip and visit those places whose names sound like a song: the Ring of Kerry, the Dingle Peninsula, Kilkenny and Limerick?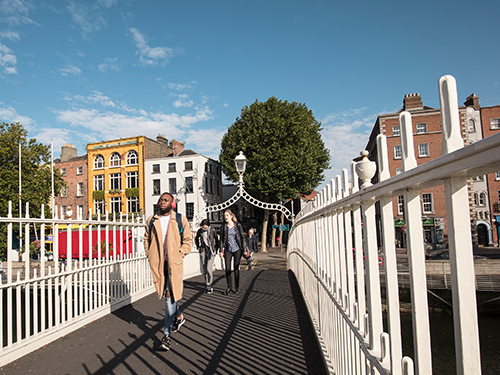 FAQs about travel to Dublin
Helpful information for travelers to Dublin
How many hours is the flight from the USA to Dublin?
On average, a flight to Dublin Ireland from the US takes around 10-11 hours. The journey time is longer if flying from the West Coast and if you book a Stopover in Iceland as part of your trip.
Are there two airports in Dublin?
Dublin Airport (DUB) is the only airport servicing the city and is located approximately 10 km north of the city center.
What airports in the US fly to Dublin?
With Icelandair, you can book round-trip flights to Dublin from several airports in the United States, including New York, Denver, and Seattle.
What month is the cheapest to fly to Dublin, Ireland?
The cheapest time to book tickets to Dublin Ireland is typically during the winter off-season (January – February). However, travelers can find cheap flights to Ireland year-round.
No matter what time of year you travel, the best advice is simply to book ahead to secure cheap flights to Dublin from the USA. Use the flight finder tool above to book airline tickets to Dublin, Ireland with Icelandair.
Make the most of your trip