Book your flight to Madrid with Icelandair from
Fly in the next three months: Flights to Madrid
Please use the search function at the top of the page to find our best flight deals
*Fares displayed have been collected within the last 72hrs and may no longer be available at the time of booking
Plan ahead for your trip to Madrid with Icelandair
From

Raleigh-Durham (RDU)

To

Madrid (MAD)
Round trip

/

Economy
Jul 05 2024 - Jul 23 2024

From

USD 1,697*
*Fares displayed have been collected within the last 72hrs and may no longer be available at the time of booking
What to see and do in Madrid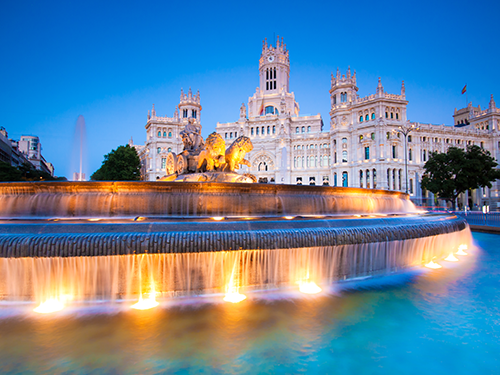 Best time to fly to Madrid, Spain
If you ask us, there's really no bad time to visit. With fantastic food, lively nightlife, and cultural sights in abundance - it's always a good time to travel to Madrid.
Due to the scorching summer heat, some believe that the best time to visit Madrid is in the cooler seasons of March-May and September-November.
The weather also tends to be clear most of the year, so if you're after some winter sun then Madrid could be a good option for you.
You can book airline tickets to Madrid with Icelandair all year round. Use the search bar at the top of the page to check upcoming flights to Madrid.
Getting around Madrid
Madrid is home to a convenient and easy-to-use public transport system, with metro, train, and bus routes to choose from.
The metro runs every day from 6AM – 1:30AM, and metro station entrances are marked clearly with the letter 'M'.
Buses are also a good option for getting around on a budget.
There are a number of taxi and private hire services operating in Madrid too, including Uber, so travelers have plenty of options to choose from.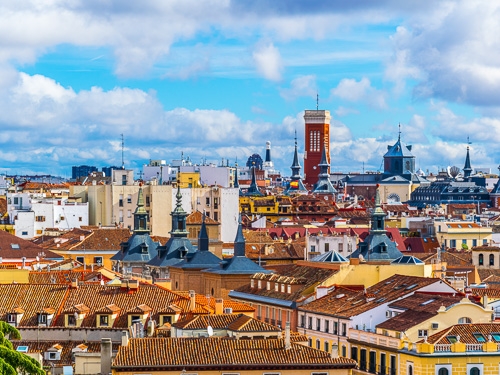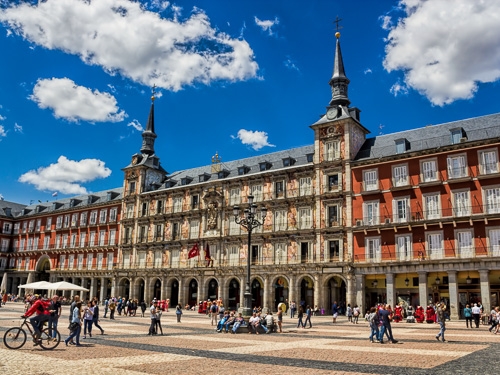 Food and drink in Madrid
If there's one thing Madrid is renowned for, it's the delicious Spanish food on offer. Ready to delight your taste buds? Take a tour around the buzzing tapas bars of La Latina neighborhood.
Head to the street called Calle de la Cava Baja for a bumper bar selection that swings from traditional to modern. Other great neighborhoods for mealtime exploration are Malasaña, Chueca, and Salamanca.
Look for the city's signature dish of cocido madrileño, a chickpea-based stew loaded with meat and vegetables - best enjoyed as a winter warmer.
Markets and food halls offer even more belly-filling finds, such as the ageless beauty of Mercado de San Miguel.
Meanwhile, the Platea in Salamanca is a glamorous restored theater that's home to a stellar selection of restaurants and bars, plus a stage that hosts cool live performances.
Things to do in Madrid
Get plenty of sleep before you touch down in Madrid - evening cultural options are aplenty in this vibrant city, with options including flamenco shows, bullfights, or a relaxed dinner with the locals.
Discover the treasure-filled royal palace of Palacio Real, and be dazzled by the impressive art collections in the Museo del Prado, Museo Reina Sofia, or Thyssen Bornemisza Museum. Expect to see works by Spanish artistic giants like Picasso, Goya, Dalí, and Velázquez.
Enjoy a break from the sights by sipping sangria in one of the many picturesque plazas in the heart of the city. Prime options include Plaza Mayor, Plaza de Cibeles, and Puerta del Sol.
If football's your thing, make a beeline for Real Madrid's ground, the Santiago Bernabéu Stadium. Grab a ticket to a game to cheer alongside 80,000 fans, or simply tour the grounds during downtime.
After all that exploring, a little afternoon siesta can't hurt. El Retiro Park is a glorious place for a pit stop if you want to relax in beautiful surroundings with your friends and family.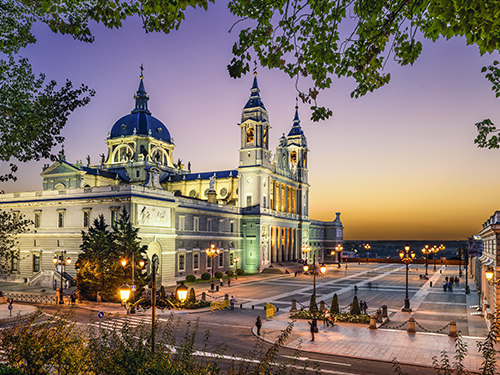 FAQs about travel to Madrid
Helpful information for travelers to Madrid
What airport do you fly into for Madrid, Spain?
How many hours is it from the USA to Madrid, Spain?
The average time to fly to Madrid from the US is around 8-10 hours. From the east coast, it's typically less (roughly 7 hours), and the flight to Madrid is longer from the west coast (around 11 hours).
Can you fly from New York to Madrid?
How do you get from the airport to the city center in Madrid?
There are four options for getting into the city from Madrid Airport (MAD). The most convenient way is to get a taxi (which takes roughly 20 minutes) but this is naturally more expensive than getting public transport. Alternatively, you can hop on a train or metro for a few euros per ticket. Buses are also a well-priced option, but they take slightly longer than the other routes.
Do I need a visa to fly to Madrid?
US citizens traveling to Spain for less than 90 days do not require a visa. However, your passport will need to be valid for at least six months beyond your intended travel period.
Immigration officers can also request visitors to present their return flight ticket or evidence of sufficient funds to cover the duration of their stay, so it's good to prepare for that possibility.
Make the most of your trip